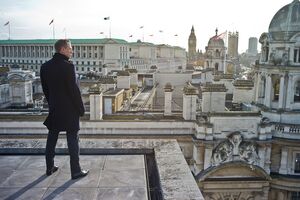 London is the capital city of England and the United Kingdom, and the largest city, urban zone and metropolitan area in not only the United Kingdom, but also the European Union by most measures.
Background
From London on Wikipedia
Located on the River Thames, London has been a major settlement for two millennia, its history going back to its founding by the Romans, who named it Londinium. London's ancient core, the City of London, largely retains its square-mile mediaeval boundaries. Since at least the 19th century, the name London has also referred to the metropolis developed around this core. The bulk of this conurbation forms the London region and the Greater London administrative area, governed by the elected Mayor of London and the London Assembly.
London is a leading global city, with strengths in the arts, commerce, education, entertainment, fashion, finance, healthcare, media, professional services, research and development, tourism and transport all contributing to its prominence. It is the world's leading financial centre alongside New York City and has the fifth- or sixth-largest metropolitan area GDP in the world depending on measurement.
London contains four World Heritage Sites: the Tower of London; Kew Gardens; the site comprising the Palace of Westminster, Westminster Abbey, and St Margaret's Church; and the historic settlement of Greenwich (in which the Royal Observatory marks the Prime Meridian, 0° longitude, and GMT). Other famous landmarks include Buckingham Palace, the London Eye, Piccadilly Circus, St Paul's Cathedral, Tower Bridge, Trafalgar Square, and The Shard. London is home to numerous museums, galleries, libraries, sporting events and other cultural institutions, including the British Museum, National Gallery, Tate Modern, British Library and 40 West End theatres. The London Underground is the oldest underground railway network in the world and completed 150 years of operations on 10 January 2013.
Novel appearances
Film appearances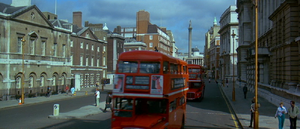 London is where James Bond's headquarters is located. The Headquarter is often spoken of as "Universal Exports" which is the pseudonym of the British Secret Service MI6. At MI6 Headquarter we often meet M who will give Bond his mission. Another very famous and very often used character is Miss Moneypenny. Who is the MI6 secretes. Usually MI6 headquarter is also were we meet Q who will provide Bond with new equipment for his mission.
Bond goes to an auction room in Sotheby's to bid for a Faberge Egg against Kamal Khan in Octopussy. In The World Is Not Enough Bond chases after an assassin down the river Thames in a speed boat from Q Branch to the Millenium Stadium. In Die Another Day secret underground trains which were referred to in You Only Live Twice were shown. In Skyfall Bond pursues Raoul Silva throughout metropolitan London, who is trying to kill M.
References
Community content is available under
CC-BY-SA
unless otherwise noted.