00 agents are elite special operatives of MI6 who have a discretionary 'Licence to Kill' in the field in order to complete their mission. Standard mandatory retirement age is 45 though various writers including Ian Fleming, Sebastian Faulks and John Gardner have contradicted this as a matter of Poetic License and several actors who have portrayed Bond on film have been older than 45 at the time of playing the character. Although Fleming only mentioned five 00 agents, others have been added over the years across various franchise media.
00 agents
The following list is of the known members of this elite order who have been referenced in officially licenced James Bond fiction: novels, films, video games, and comic strips (not including impostors).
Agent #
Name
Description
001
Edward Donne
Referenced in the Raymond Benson novel, Doubleshot.
002
Bill Fairbanks
Assassinated by Francisco Scaramanga, a.k.a. The Man with the Golden Gun, in Beirut, Lebanon, in 1969 (film version: The Man with the Golden Gun).
Unknown
In The Living Daylights (film version), another 002, played by Glyn Baker, was in the training exercise at Gibraltar, with 004 and 007.
003
Unknown
Found dead in Siberia, in the 1985 film A View to a Kill. Had been investigating the Soviet Union's use of EMP-resistant microchips prior to his death.
Jack Mason
Another MI6 agent, referred to as 003, or "Jack", is captured and shot by the primary antagonist, Nikolai Diavolo, in the 2004 video-game Everything or Nothing.
004
Unknown
Accompanied 002 and 007 to Gibraltar in The Living Daylights film; murdered by an individual pretending to be a KGB agent who left a tag on the body that read "Death to Spies" in Russian.
Unknown
Another 004 appears in the Benson novel The Facts of Death.
Unknown
In the GoldenEye video game on the Silo mission briefing, Q mentions to 007 to "remember to treat the timed explosives with respect - you remember what happened to 004 in Beirut" - whether this is another agent or the same one as above is unknown.
Scarlett Papava
In the Sebastian Faulks novel Devil May Care, Bond girl Scarlett Papava is unveiled as 004, replacing the previous agent who was killed in Berlin.
005
Stuart Thomas
Was 005 until an eye defect had begun to impair his ability to use a firearm. Was transferred and is the head of Station G (Greece) in Colonel Sun.
Unknown
In Dynamite Entertainment's 2018 comic James Bond: M, an unnamed 005 was chastised by M for severely bungling a mission to save a Duchess from her captors.
006
Alec Trevelyan
Major character in GoldenEye. One of Bond's best friends, he betrayed MI6 and Her Majesty's Government by faking his death and then, years later, in aiding the theft of the secret Soviet satellite system, GoldenEye. His motive was avenging his parents, Lienz Cossacks, betrayed to the Communists by the British government after World War II. He also begrudged Bond's not allowing him time to escape unscathed from the Soviet chemical weapons factory they were to destroy in the mission shown in the teaser of GoldenEye. Portrayed by Sean Bean.
Unknown
Another apparent 006, a former Royal Marine commando, is mentioned in the Fleming novel On Her Majesty's Secret Service.
"Hutcheon"
Another active 006 is mentioned in the 2015-2016 comic VARGR, and at one point in his career, he used the pseudonym "Mr. Hutcheon".
007
Unknown
In Anthony Horowitz's 2018 James Bond continuation novel Forever and a Day, the 007 preceding James Bond was shot three times and killed on assignment in the South of France in the year 1950. His body was discovered in the waters of Marseille. This man was the first to hold the 007 title, and was in the first batch of 00 Agents. He was a personal friend of James Bond before his death.
James Bond
Until 2018, James Bond was the only agent known to have had the code number 007. During the timeframe of the You Only Live Twice novel, Bond was transferred into another branch and given the number 7777, suggesting there was no active 007 during that time frame. Bond was subsequently reinstated as 007 in the following book, The Man with the Golden Gun. In the John Gardner novels, 007 is the last remaining active 00-agent, the section itself having been dissolved by the 1980s; Raymond Benson later contradicted this in his novels. Bond was initially offered the title of 009, but out of respect to his personal friend the previous 007, he asked for his number instead.[1]
Nomi
In the 2020 James Bond film No Time to Die, Bond is replaced by a new 007 upon his retirement from the service.
008
Unknown
In the films, agent 008 is mentioned briefly when M threatens to replace Bond on an assignment, e.g. Goldfinger and The Living Daylights[2]. The James Bond 007 role playing game released in the 1980s suggests 008 is a woman.
"Bill"
In the novel Goldfinger, Bond thinks to himself that 008 would likely avenge Bond by killing Goldfinger. As Bond thinks this, he ruminates that 008 is "a good man, more careful than Bond." In the novel Moonraker, 008 (called "Bill" by Bond) is mentioned as being on recuperative leave after returning from a mission behind the Iron Curtain.
Unknown
In the 1998 video game James Bond 007 for the Nintendo Game Boy, MI6 sends an unnamed agent 008 into Kurdistan to dismantle an arms smuggling ring. Soon thereafter, all contact was lost with 008. M makes a decision to send James Bond to investigate his whereabouts.
Unknown
In the 2014 Dynamite comic VARGR, Bond was sent to Helsinki, Finland to avenge a fallen 008. This 008 was confirmed as male, and was killed by a gangster for no other reason than because he loved killing.
009
Unknown
Assassinated by Mischka and Grischka in the film version of Octopussy.
Unknown
M sent another 009, in the movie The World Is Not Enough, to assassinate Renard; despite 009's shooting him in the head, Renard lived.
Unknown
Another 009 dies in Issue: #7 of the Swedish James Bond comic James Bond, Agent 007 (8th July 1986) in story Dödlig Dubbelgångare (Deadly Double).
Unknown
Yet another unlucky holder of the title was experimented on and later killed in Peru in Dark Horse Comics' 1991 graphic novel Serpent's Tooth.
Unknown
Another holder of 009 status was supposed to get the Aston Martin DB10 featured in Spectre, however the car was stolen by James Bond.
0010
John Wolfgramm
Referenced in the Benson novel The Man with the Red Tattoo.
0011
Unknown
Mentioned briefly in the novel Moonraker as vanishing while on assignment in Singapore.
0012
Unknown
Simply identified as an "MI6 agent" on the big screen, the novelization and video-games based on The World is Not Enough identified the unnamed character a 'Double-O' operative.[3] He was killed over a confidential document, prior to the film's events.
0013
Briony Thorne
A female 00-agent who appears in the comic strip Fear Face (published January 18, 1971 to April 20, 1971 in the The Daily Express). Thorne was framed as being a double agent for China.
Unknown
Agent York
Killed in the comic strip River of Death (published June 24, 1969 to November 29, 1969 in The Daily Express). Agent York is a 00 agent but his number isn't revealed.
Suzi Kew
A recurring character in the Daily Express comic strip series of the 1960s and 1970s, Suzi Kew is a 00 agent but her number is not revealed.
Henry Fraser
In Anthony Horowitz's 2015 James Bond continuation novel Trigger Mortis, an unnumbered 00 agent named Henry Fraser was reassigned to the Communications Department where he serves as Duty Officer, following paralysis from a gunshot wound to the spine.[4]
Clive Woodslow
Another unnumbered 00 agent named Clive Woodslow was an ally to Bond in the 2015 video game James Bond: World of Espionage by Glu Mobile.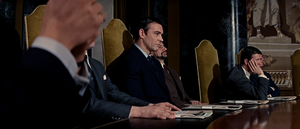 Additional 00-agents are glimpsed in the briefing scenes of Thunderball and The World Is Not Enough, but no additional information about them is provided. The latter film suggests that at least one 00-agent is a woman. There is fan speculation that suggests that M, being the head of MI6, is also 001, but this is not supported by any novel or film, and in fact Raymond Benson references a 001 in his novel, Doubleshot. Likewise, speculation that only nine 00-agents exist (001-009) is contradicted by Fleming himself in Moonraker, and likewise is contradicted by later writers.
Trivia
In addition to the above, the John Pearson novel James Bond: The Authorised Biography of 007 mentions "real life" 00 agents 002 (named Bill Fairbanks as per Man with the Golden Gun), 003 (badly injured in 1951), 008 (died in 1951), 009 (died in 1955 in Hungary), 0011 (died in 1951).
A former 00-agent candidate[5] nicknamed "GoldenEye" was featured in the video-game GoldenEye: Rogue Agent. He was shot in the right eye, and was dismissed by MI6 for "reckless brutality". He joined up with Auric Goldfinger against the shooter, Dr. Julius No, and eventually received a gold-hued, synthetic orb as a replacement for his right eye. After killing Goldfinger and Dr. No, he becomes Ernst Stavro Blofeld's bodyguard. Unlike other 00 agents listed here, it is difficult if not impossible to reconcile GoldenEye with the continuity of the films, comic strips, or novels.
As noted above, on screen Bond has been seen in the presence of multiple other 00 agents on two occasions to date, while The World is Not Enough establishes that not only do the 00's have their own section at MI6 headquarters, but even their own logo. However, other media, such as the comic strip "Fear Face" and the novel Devil May Care have as major plot points the fact that Bond doesn't recognize two characters as fellow 00 agents, indicating that the agents (likely for security reasons) are not always aware of each other's identities. It's notable also that, when MI6 HQ is attacked in The World is Not Enough (soon after the aforementioned reveal of the 00 section of the building), 007 appears to be the only 00 agent present during the incident.
See also
References
↑ Anthony Horowitz (2018). Forever and a Day. Ian Fleming Publications, 42. ISBN 0062873628.

 

↑

"It was instinct. - I'll recall 008 from Hong Kong | The Living Daylights quotes". Subzin.com. Retrieved 12 November 2012.

↑ Benson, Raymond; Neil Purvis & Robert Wade (1999). "Chapter 01: Errand Boy", The World Is Not Enough (in En). Boulevard. ISBN 9780425173503.

 

↑ Horowitz, Anthony (2015). "Chapter 2: Racing Uncertainty", Trigger Mortis (in English). Hachette UK, p.28. ISBN 9781409159155.

 

↑ Goldeneye: Rogue Agent: Official Strategy Guide (Prima's Official Strategy Guides), Prima Games, 26 November 2004, p.4
↑ Horowitz, Anthony (2015). "Chapter 20: Naked Aggression", Trigger Mortis (in English). Hachette UK, p.254. ISBN 9781409159155.

 

↑ Horowitz, Anthony (2015). "Chapter 15: Follow the Money", Trigger Mortis (in English). Hachette UK, p.185. ISBN 9781409159155. "[this counterfeit note is] at least seven years old ... Back in 1950 they made a few changes to the design."

 
Community content is available under
CC-BY-SA
unless otherwise noted.