Boba Fett Returns - The Loop
Play Sound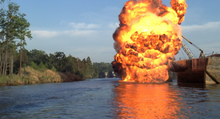 Adam was a fictional American gangster and enforcer to Mr. Big but mainly receives his instructions from Tee Hee; in some ways he can be considered to his right-hand man. The character appeared in the film adaptation of Ian Fleming's Live and Let Die, portrayed by Tommy Lane.
Biography
Adam first appears at the airport where Bond and a recently defected Solitaire are captured intending to force Bond to sky dive from a high altitude into the lake. Adam then leads Mr. Big's men in pursuing Bond after he escapes from the alligator farm. He accidentally brings Sherrif J.W. Pepper's attention for speeding, and J.W. attempted to arrest him but Bond surprised him by jumping the boat he was driving over them while Adam manages to make a getaway.
Adam later steals a speedboat from J.W.'s brother-in-law, Billy-Bob to chase Bond and, at the climax of the chase near an abandoned tanker, is doused in petrol by Bond. Disoriented by this attack, he loses control of his boat as it crashes into the tanker and perishes in the explosion.
Gallery
References