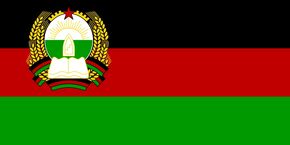 Afghanistan is a landlocked country located in South-Central Asia.[1] It is bordered by Pakistan in the south and east; Iran in the west; Turkmenistan, Uzbekistan, and Tajikistan in the north; and in the far northeast, China. Much of its 652,000 square kilometers (252,000 sq mi) is covered by the Hindu Kush mountain range at the western end of the Himalayas,[2][3] separating the Amu Darya and Indus valleys.[4] Kabul is the capital and largest city.
The region makes its first official Bond appearance in the last third of the 1987 James Bond film, The Living Daylights. Set during the Soviet–Afghan War (1979-1989), James Bond escapes from a Soviet airbase, joins forces with the Mujaheddin, and returns to the airbase to sabotage the opium-smuggling plans of rogue Soviet general, Koskov. Several years prior, the region was briefly mentioned in the 1983 film Octopussy; whose villain is an exiled Afghan prince. In Raymond Benson's novelisation of the 1997 film Tomorrow Never Dies, a joint Russian/MI6/Admiralty operation is conducted to observe and destroy an arms bazaar in Afghanistan.[5]
References
Community content is available under
CC-BY-SA
unless otherwise noted.