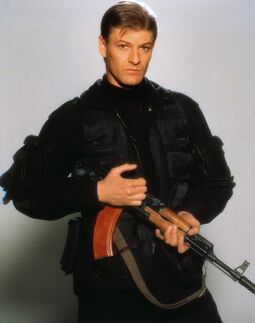 Alec Trevelyan (also known as 006 and Janus) was a fictional former 00 agent and head of the Janus Crime Syndicate. He served as the primary antagonist of the 1995 James Bond film GoldenEye and was portrayed by British actor Sean Bean. His likeness was subsequently used for the 1997 video game GoldenEye 007. The character was later re-imagined for the 2010 video-game of the same name, played by Elliot Cowan.
Literary
Movies
Video-game
Community content is available under
CC-BY-SA
unless otherwise noted.