The Beretta 950 Jetfire is a semi-automatic pistol designed and manufactured by Beretta since 1952.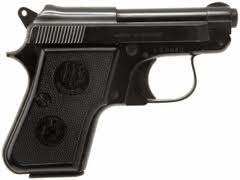 It builds on a long line of small and compact pocket pistols manufactured by Beretta for 
self-defence
. Based on very early Beretta models, the weapon is intended to be a very simple and reliable pocket pistol.
Specifications
Production: 1952-2003
Type: Pistol
Weight:
Length:
Barrel length(s):
Capacity: 8 rounds
Fire Modes: Semi-Auto
Film appearances
It appears in The Man With the Golden Gun in the hands of Andrea Anders, Scaramanga's lover and henchwoman. She points it at Bond for spying on her in the shower and Bond asks if it is a 'water pistol?' She forces him to hand her a bathrobe and makes him turn around while she puts it on and forces him out of the bathroom. Upon being asked to give her the fictional 4.2 millimetre bullets back, Bond disarms her and they talk. In The Spy Who Loved Me, XXX keeps one as her sidearm, first drawing it on Jaws to force him to give the microfilm to her and while picking it up, he kicks it out of her hand, causing her to run, presumably picking it up as she is seen loading one in the submarine. In Licence to Kill, CIA informant and pilot Pam Bouvier keeps two Jetfires with her. She gives one to fired MI6 rogue agent James Bond from her thigh holster after Sanchez confiscated his Walther PPK during their meeting and he used it to confront Q, who checked into the hotel, posing as Bond's uncle while Pam got her spare one out of her purse. After finding out who he really was, Bond placed it in the holster where he once kept his Walther. Bond loses it when Kwang's Narcotic ninjas attacked him and when he escaped Sanchez' hospitality, he swipes her gun and confronts her with it while accusing her of siding with them when he saw her with Heller, but after realising, she was giving him Felix's letter of immunity, he returns it to her. She used it to confront Professor Joe Butcher into giving her the keys and steals a robe from his coat hangers while running out. When Bond's cover was blown at the cocaine factory and Dario was attempting to throw him in the crusher, Pam showed up to him, and with the robe, mistook her for an angel until she shot him with the gun, giving him a flesh wound, but a spent casing soon jams the slide, preventing Pam from firing it again.
Images
Community content is available under
CC-BY-SA
unless otherwise noted.