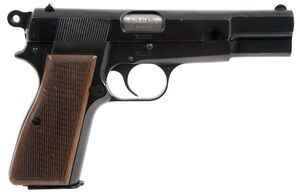 The Browning Hi-Power is a pistol first developed by American inventor John Browning. After Browning died in 1926, the Belgian FN company continued his project until the pistol went into mass production.
Specifications
Production: since 1935
Type: Pistol
Weight: 1 kg (2.2 lb)
Length: 197 mm (7.8 in)
Barrel length(s): 119 mm (4.7 in)
Capacity: 13-15 rounds
Fire Modes: Semi-Auto
Mr. Jones keeps a Browning Hi-Power in the glovebox of his Chevrolet Bel Air Convertible, but James Bond stops him before he can reach his gun.
Ernst Stavro Blofeld uses a Hi-Power during the bobsled chase.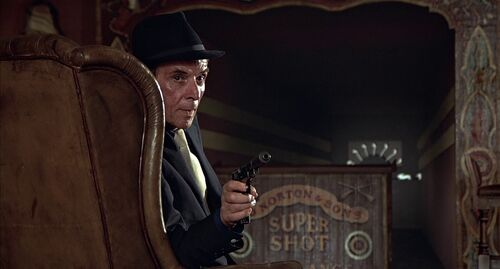 Rodney uses a suppressed Browning Hi-Power during the pre-title sequence.
Karageorge uses a Hi-Power during the raid on the Albanian warehouse.
Later Mk.III models will be listed under Browning Hi-Power Mk.III.
Community content is available under
CC-BY-SA
unless otherwise noted.