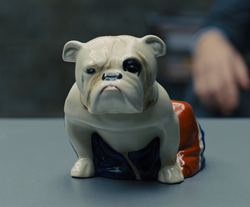 The bulldog ornament is a Union Jack-emblazoned bone china figurine which takes pride of place on M's desk in the 2012 James Bond film, Skyfall. The bulldog is an original Royal Doulton figurine produced in 1941.
Film background
"The whole office goes up in smoke and that bloody thing survives?"
― Bond stares at the porcelain bulldog on M's desk.
The bulldog ornament is probably a gift to M from her husband before he passed away and Bond dislikes it. Usually kept on her desk, it was the only thing that survived the explosion on MI6 by Raoul Silva and Bond was disappointed.
"Her will was read today, she left you this."
― Eve gives Bond the ornament that M left in her will in a box
After her death, Eve revealed in M's will that she left the ornament to him. Eve thinks it is a way of M telling Bond to get a desk job.
Behind the scenes
The bulldog ornament seen in Skyfall is one of a number of original bulldog figurines created by Royal Doulton's art director Charles Noke in 1941. [1]
Concurrent with the release of Skyfall in 2012, Royal Doulton resumed production of the flag-emblazoned figurine (named Jack) with a design based on the original. In a reference to its Bond appearance, all modern Jacks feature the ID backstamp "DD007". Within a few weeks of the movie launch, the 2500 Jacks produced virtually sold out on Royal Doulton's website due to high demand.[2]
Apparently a popular item among British intelligence chiefs, the same Royal Doulton ornament also appeared in the 2011 film adaptation of John Le Carre's spy novel Tinker,Tailor, Soldier, Spy in the office of "Control", the head of the British Intelligence Service.
References
Community content is available under
CC-BY-SA
unless otherwise noted.