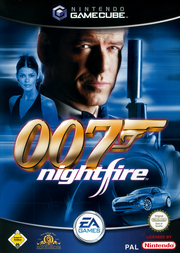 Nightfire is a first-person shooter video game based on Ian Fleming's British secret agent James Bond. It was developed by Eurocom for the PlayStation 2, Nintendo GameCube, and Xbox video game consoles. Gearbox Software developed the game for Windows, which Aspyr later ported to the Mac. It was published by Electronic Arts in 2002. In 2003 EA released Nightfire for the Game Boy Advance this time developed by JV Games.
Overall there are many weapons that the player can carry including grenades of various sorts and other types of explosives. In addition, there are numerous amounts of mounted weapons found throughout the game. To avoid copyright, names of the weapons were changed, which differed between the console and PC versions. Some weapons appear in the console version but not the PC version, and vice-versa.
What follows is a list of weapons found in 007: Nightfire.
Trending pages
All items (18)