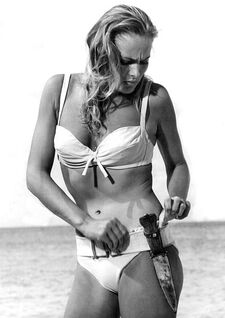 A Bond girl is a character or the actress portraying a love interest or sex object of James Bond in a film, novel or video game. They typically have names that are double entendres, such as "Pussy Galore."
Generally, Bond girls are victims rescued by Bond, fellow agents or allies, villainesses or members of an enemy organization, or merely eye candy that have no direct interaction with James Bond whatsoever. Other female characters such as Judi Dench's M and Miss Moneypenny are not thought of as Bond girls.
The role of a Bond girl is typically a high-profile part that can give a major boost to the career of unestablished actresses, although there have been a number of Bond girls that were well-established prior to gaining their role. For instance, Diana Rigg and Honor Blackman were both Bond girls after becoming major stars for their roles on the television series, The Avengers. Additionally, Halle Berry won an Academy Award in 2002 for Monster Ball, an award presented to her while in the midst of filming Die Another Day.
Bond girls have attracted the attention of feminists, with some insisting they be called "Bond women". Feminism has had an effect on the role of Bond girls to some extent, and certainly the treatment of women by Bond has improved in later films compared to the early ones.
For a complete list of Bond Girls sorted by film, visit the Bond Girl page.
Trending pages
All items (288)