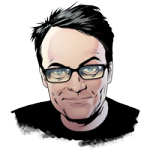 Charlie Higson (born, 1958) is a British television writer, actor, author, and a comedy performer. After graduating from the University of East Anglia, in the early 1980s, he was for some time a member of the band The Higsons, before he turned to performing.
Biography
Charlie Higson first came to public attention as one of the main writers and performers of the BBC Two sketch show The Fast Show (1994-2000), which was a great success and enabled Higson to pick and choose his following projects.
He worked as producer, writer, director and occasional guest star on the revival of Randall and Hopkirk (Deceased) from 2000 to 2001. Subsequent television work has included writing and starring in BBC Three's Fast Show spin-off sitcom Swiss Toni.
In 2004, it was announced that Higson would pen a series of James Bond novels, aimed at younger readers and concentrating on the character's schooldays at Eton. The first novel, SilverFin, was released on March 3, 2005 in the U.K. and on April 27, 2005 in the U.S.. A second novel, Blood Fever was released on January 5, 2006 in the U.K. and will be released on June 1 in the U.S.
See also
External links
Community content is available under
CC-BY-SA
unless otherwise noted.