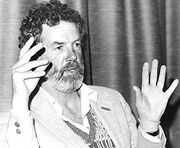 Christopher Hovelle Wood (born 5 November 1935 - died 9 May 2015) is an English screenwriter and novelist best known for the Confessions series of novels and films which he wrote as Timothy Lea. Under his own name, he adapted two James Bond novels for the screen: The Spy Who Loved Me (1977 with Richard Maibaum) and Moonraker (1979).
Wood has written many novels. His novels divide into four groups: semi-autobiographical literary fiction, historical fiction, adventure novels, and pseudonymous humorous erotica.
Association with Bond
Wood's first brush with Bond was in 1976 when, along with Richard Maibaum, was tasked to write the final draft of The Spy Who Loved Me.
Given that the film was a completely original story, Gildrose comissioned Maibaum a novelization of his scritp which was released as James Bond, The Spy Who Loved Me.
Two years later Wood returned to the world of Bond again crafting the screenplay for the next film Moonraker. Once more he was comssioned by Gildrose to adapt his screenplay into a novelization under the name James Bond and Moonraker.
References
Community content is available under
CC-BY-SA
unless otherwise noted.