Novel
—
Film
—
Radio drama
—
Comic
—
Soundtrack
—
Song
—
Characters

Dr. No is a comic strip adaptation of Ian Fleming's sixth James Bond novel, of the same name. The comic strip was published daily from 23 May to 1 October, 1960 in the British Daily Express newspaper and syndicated around the world. The adaptation was written by Peter O'Donnell and illustrated by John McLusky. The James Bond 007 Fan Club published a reprint of the strip in 1981 and the adaptation was published again in 2005 as part of a Dr. No anthology by Titan Books that also included Diamonds Are Forever and From Russia with Love.
Comic book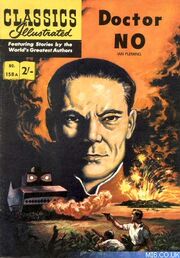 Dr. No was also adapted in the British Classics Illustrated in 1962, written and illustrated by Norman J. Nodel. The 32-page comic follows the movie script and most of the characters are drawn to resemble their screen counterparts. Some deviations are found, such as having Professor Dent trying to shoot James Bond before getting killed, and Dr. No being electrocuted instead of drowned. The original British cover depicted Dr. No, as well as the scene Bond and Honey Ryder meet the tank disguised as a dragon.
It was first published in the United Kingdom in Classics Illustrated #158A, being later reprinted in Detective Stories by Dell Publishing through Europe. For the US publishing by DC Comics, the comic was censored, deleting all racial skin color and dialogue thought to be demeaning. It also received a different cover, by Bob Brown, depicting a scene from the climax where Bond confronts Dr. No in the control room. The inside front cover included photos from the film, and the inside back cover had brief biographies of Bond and Fleming. The release in Showcase #43 (March 1963) went mostly ignored. The next attempt at an American-published James Bond comic would not be made until the adaptation of For Your Eyes Only by Marvel Comics in 1981.
Community content is available under
CC-BY-SA
unless otherwise noted.