Miss Eve Moneypenny is a fictional character in the James Bond films. She is the tough and sassy secretary to M, who is Bond's boss and head of the British Secret Service.
After an absence from the 2006 James Bond film Casino Royale and its 2008 sequel Quantum of Solace, 2012's Skyfall reintroduces the character for Daniel Craig's tenure as Bond; Skyfall is the first film in which the character is given a first name, Eve. She is played by Naomie Harris, the only non-White actress to portray Moneypenny. Even though she is not considered a Bond girl, she is the first Moneypenny to have romantic moments with 007.
Film biography
Eve was an MI6 field agent, who during a mission with Bond in Istanbul, Turkey, spots Bond while he struggled with mercenary Patrice atop a train. M demands that Patrice be eliminated, but due to the constant movement of Bond and Patrice, Eve lacks confident she can get a good shot at Patrice. M, frustrated with such a response, bluntly orders Eve to "take the shot". Eve does so, and ends up shooting Bond, resulting in his apparent death.
Afterwards she is placed under investigation. Although not reprimanded due to the extreme situation and M's direct order to shoot, she is suspended from field work, although she does aid in fighting off Raoul Silva in order to ensure that Bond can help M escape safely (as Silva had showed up with the intention of killing M).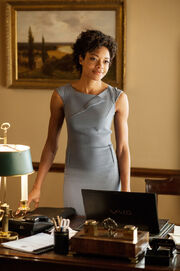 At the end of the film, Eve states she is unfit for field work, and will now work as the executive secretary to Gareth Mallory. As Bond says that they have not been properly introduced, she says her full name is Eve Moneypenny.
Monneypenny helps Bond in Spectre, while he's going rogue. She tells him that The Pale King is in fact Mr. White. Later she helps Bond in London when M finds out that C is spying on all the MI6 agents. In the final act of the film she helps Bond together with the MI6-crew to capture C and Ernst Stavro Blofeld.
Alternate continuities
To be added
To be added
Gallery
Trivia
Despite the fact that the only Bond girl in Skyfall was Sévérine, Eve and Bond also shared a few romantic moments throughout the film.
In Skyfall she's not only a secretary, but also a field agent. In fact, she mostly appears as a field agent.
See also