Gert Fröbe (1913-1988) was a German actor who is famous by portraying Auric Goldfinger, the main antagonist in the 1964 movie, Goldfinger, starring Sean Connery as James Bond.
Life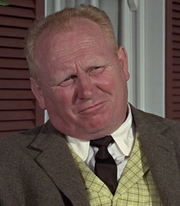 Gert Frobe (born Karl-Gerhart Froeber) was born in Saxony, Germany in 1912. In his lifetime Frobe performed in over 100 film productions and came into the western public eye after his menacing role in 1964's "Goldfinger" as the title character. Before this role, Frobe was an established actor in his first language, but contrary to the character, Frobe was a jolly and humorous man and comedy was his natural forté. On the James Bond production the dubbing artist Nikki van der Zyl taught Frobe to recite his English lines. He was, however, ultimately dubbed in the final cut of the film.
After his introduction to the western world in "Goldfinger", Frobe performed in another Broccoli film, the film adaptation of Ian Fleming's children's novel "Chitty Chitty Bang Bang"..
Other notable productions included 1965's "Those Magnificent Men in Their Flying Machines" and numerous German language films.
An early script for Diamonds are Forever was to not to have Blofeld. Instead, the villain was to have been Auric Goldfinger's twin brother, but the idea was dismissed as too campy. Had this made it to shooting, Gert Frobe would have been cast in the role.
Death
His final screen appearance was "The Little Vampire" in 1986. Frobe played the lead role of Detective Geiermeier in this German horror flick. Frobe passed away in Barvaria, Germany on the 5th of September 1988. His legendary performance as the villainous Goldfinger remains today, a fan-favourite Bond moment.
Community content is available under
CC-BY-SA
unless otherwise noted.