Film
—
Novelisation
—
Comic
—
Games
—
Soundtrack
—
Song
—
Characters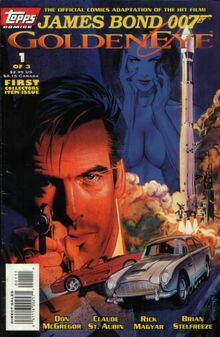 In late 1995 Topps Comics began publishing a three-issue adaptation of GoldenEye in comic book format. The film script was adapted by Don McGregor with art by Rick Magyar. The first issue carried a January 1996 cover date. For reasons unknown, Topps canceled the adaptation after only the first issue had been published, and to date the adaptation has never been released in its entirety.
Community content is available under
CC-BY-SA
unless otherwise noted.