Novel
—
Film
—
Radio drama
—
Comic
—
Game
—
Soundtrack
—
Song
—
Characters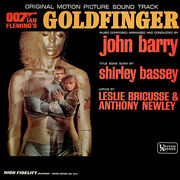 Goldfinger is the first of three James Bond films with a theme song sung by Shirley Bassey. Though she only performed three out of the many Bond film theme songs, her strong, brassy style became a Bond theme trademark. "Goldfinger" was written by John Barry, Leslie Bricusse and Anthony Newley. The theme was originally recorded by Newley, but was rerecorded with Bassey for the film and the soundtrack. Newley's version was later released in 1992 as part of the 30th Anniversary of James Bond on film in the compilation collectors edition The Best of Bond...James Bond. Bassey's theme sold over a million copies in the United States awarding her a Gold album. In the United Kingdom the theme reached number 21 on the charts.
The film's soundtrack was composed by John Barry, marking this as his second credited James Bond film soundtrack. The last four tracks were not released on the original soundtrack and were first released on the 30th Anniversary compilation, The Best of Bond...James Bond. They were also later released on the remastered Goldfinger soundtrack in 2003.
Track listing
"Into Miami"
"Alpine Drive / Auric's Factory"
"Oddjob's Pressing Engagement"
"Bond Back in Action Again"
"Teasing The Korean"
"Gassing The Gangsters"
"Goldfinger" - (instrumental version)
"Dawn Raid on Fort Knox"
"The Arrival of the Bomb and Count Down"
"Death Of Goldfinger, The End Titles"
"Golden Girl"
"Death Of Tilly"
"The Laser Beam"
"Pussy Galore's Flying Circus"
Community content is available under
CC-BY-SA
unless otherwise noted.