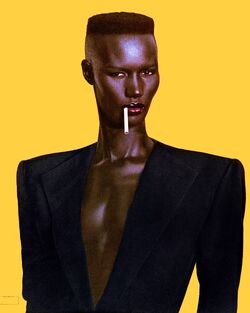 Beverly Grace Jones (born 19 May 1948) is a Jamaican singer, actress and model who played the henchwoman May Day in the 1985 James Bond film A View to a Kill, Roger Moore's final appearance as Bond. The character May Day possesses superhuman strength, a trait that became more convincing with the casting of Jones, who has an impressive physique.
Jones started out as a model, garnering popularity from regular appearances at the STudio 54 nightclub in New York City. In the late 1970's, she evolved into an electronic music artist with an androgynous look. Her hit singles throughout the years include "Pull Up to the Bumper", "I've Seen That Face Before (Libertango)", "Private Life", "Slave to the Rhythm" and "I'm Not Perfect (But I'm Perfect for You)". She also covered Gary Numan's "Me I Disconnect From You"
In Europe, Jones' music became extremely popular (she still tours there today), but her success as a music artist in the US. was short-lived. However, she had a good run as an actress in the US, starting with some appearances in low-budget films in the 1970s and early 1980s. She entered the mainstream by appearing in the 1984 fantasy-action film Conan the Destroyer alongside Arnold Schwarzenegger, and of course, the 1985 Bond movie A View to a Kill. In 1986, she played a vampire in Vamp, and both acted in and contributed a song to the 1992 film Boomerang with Eddie Murphy. In 2001, she appeared in Wolf Girl alongside Tim Curry.
Trivia
Grace Jones appeared in the 1992 Eddie Murphy film Boomerang, which also featured actor Geoffrey Holder, who played Baron Samedi in the Bond film Live and Let Die.
At the time of filming A View to a Kill, Grace Jones was dating Dolph Lundgren. He was visiting her on set one day when an extra was missing, so the director John Glen asked him if he wanted to get a shot at it. Lundgren appears as a KGB agent during the confrontation between General Gogol and Max Zorin at the racetrack, standing several steps below Gogol.
In 1998, Jones also did promotional spots for a Bond marathon of the USA Network. She would be shown in between films or when they cut for commercial breaks, playing a laughing stewardess on a flight gone out of control.
Community content is available under
CC-BY-SA
unless otherwise noted.