Hotel Splendide is a fictional hotel which first appears in Ian Fleming's 1953 James Bond novel, Casino Royale, located in the fictional French seaside resort of Royale-les-Eaux. Fleming's later novel On Her Majesty's Secret Service also takes place there. The hotel was subsequently featured in the official 2006 film adaptation of Fleming's novel, located instead in Montenegro. The hotel also makes an appearance in the 2008 video-game Quantum of Solace.
Appearances
Novel appearance
The Hotel Splendide is one of two main hotels in the fictional French seaside resort of Royale-les-Eaux, the other being the Hermitage. Since the Victorian era the once popular coastal town had fallen on hard times, losing business to the towns of Le Touquet and Deauville. The town thereafter survived on seaside holidaymakers in the summer and its small fishing fleet in the winter, as well as "the crumbs which fell to its elegantly dilapidated Casino from the table at Le Touquet". Royale's renaissance came after the Second World War. Encouraged by the post-war revival of Brighton and Nice, in 1950 Royale-les-Eaux was identified as a potential source of revenue by a Paris syndicate which invested funds on behalf of exiled Vichyites. The Casino, the public gardens and the two main hotels were refurbished and Paris jewellers and couturiers were given rent-free sites on which to establish branches.[1]
Both Bond and Contessa Teresa di Vicenzo stay at there.[2]
Film appearance
In the official film adaptation of Casino Royale, James Bond and his HM treasury liaison Vesper Lynd stay at the Hotel Splendide whilst on a mission to bankrupt the terrorist financier Le Chiffre, who is attempting to recoup financial losses at a high-stakes poker tournament at Casino Royale in Montenegro.
Video-game appearance
Behind the scenes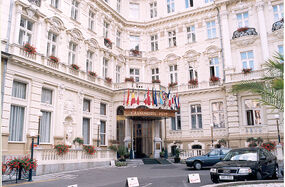 Location filming for the 2006 Eon film adaptation of Casino Royale took place in the Czech Republic in April 2006, and continued there, filming in Prague, Planá and Loket, before completing in the town of Karlovy Vary in May. Although part of the storyline is set in Montenegro, no filming took place there. The Grandhotel Pupp, a five star Czech spa hotel with a history dating back to the early 18th century served as "Hotel Splendide"[3], with the nearby' Lazne I' or Spa I, the former 'Kaiserbad Spa'[4] [5] doubling the exterior of the famous Casino Royale.
References
Community content is available under
CC-BY-SA
unless otherwise noted.