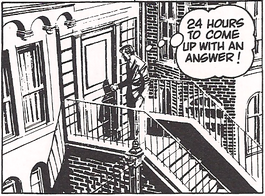 James Bond's flat was his home throughout most of the James Bond franchise, particularly the novels. It is located in the Chelsea district of London, England.
History
Literary appearances
Ian Fleming wrote James Bond lives in a small, but comfortable two-bedroom ground floor flat of the converted Regency house on a little square lined with plane trees off of King's Road and it takes Bond 15 minutes to drive from MI6 headquarters to his flat. Also Fleming described the building as having steps running up to the front door and the flat having a 'book lined' sitting room also with an ornate Empire desk near its 'long big-window' overlooking the square also described as a 'broad window' as well as being a 'bay window'. His bedroom is 'smallish' with white and gold Cole & Sons wallpaper with deep red curtains and a double bed with the dark blue bedspread. It has a large white-tiled bathroom containing a simple, glass shower cabinet and a bath. The are two telephones – a regular personal phone, and a red one with a direct line to headquarters.
Bond wonders if there be room in his flat upon his marriage to Tracy and thinks perhaps he could rent the floor above.
In the novel Solo, Bond lived on the second floor above a concert flutist who owned the back garden. He was often on tour and allowed Bond to keep his spare keys, which allowed for covert escapes down the heavy drainpipe out his drawing room window.[1]
Behind a fake radiator on the study wall was an airbrick with a spare Walther PPK, some cash, and some vital phone numbers and addresses.[1]
Shortly before his 45th birthday, Bond paid to have his flat remodeled.
Cinematic appearances
In Dr. No before leaving on his mission to Jamaica, James Bond comes home to find a putting Sylvia Trench waiting for him.
M paid an urgent visit to the flat in middle of the night and a female Italian agent had to disappear quietly in the wardrobe, in plain sight of an amazed Moneypenny during Live and Let Die. He also owns his La Pavoni espresso machine in his kitchen.[2][3]
Moneypenny goes to see James Bond at his flat in Spectre. It was also mentioned in Skyfall by M that MI6 sold his flat after he was presumed dead.
Behind the scenes
Ian Fleming himself lived for many years in Chelsea at his mother Eve's residence 119 Cheyne Walk and later 24 Carlyle Mansions.[4]
Exterior scenes of James Bond's flat for Spectre were filmed at 1 Stanley Garden, Notting Hill, West London[5][6] which was also used as a filming location for the 2003 feature film The Mother starring Daniel Craig.
Trivia
Bond has lived in Chelsea for most of his life as his parents also had a flat in Chelsea that they lived in while not in Switzerland.[7]
References
Community content is available under
CC-BY-SA
unless otherwise noted.