Novel
—
Film
—
Radio drama
—
Comic
—
Soundtrack
—
Song
—
Characters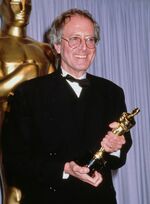 The James Bond Theme
is the main signature theme of the
James Bond
film series and is featured in every
EON Productions
007 film since
Dr. No
in different versions. The piece has been used as the accompanying fanfare to the
gun barrel sequence
in almost every James Bond film. It is set in the key of F, with a B flat.
The James Bond Theme has accompanied the opening titles twice, as part of the medley that opens Dr. No and then again in the opening credits of From Russia with Love. It has been used as music over the end credits for Dr. No, Thunderball, On Her Majesty's Secret Service, The World Is Not Enough, Casino Royale, and Quantum of Solace.
Monty Norman has been credited with writing the song and he has received royalties since 1962, although producers had his arrangement rearranged by John Barry. Thus, a debate rages on about who is the true composer of the theme.
In the made-for-DVD documentary Inside Dr. No, Norman performs a piece of music he wrote for the stage several years earlier entitled Bad Sign, Good Sign , that resembles the melody of the "James Bond Theme" in several places.
The song uses a surf rock style guitar riff, as the genre was a craze in the early 1960s.
James Bond Theme

Dr. No Title Sequence
Unlike most Bond films, Dr. No does not have a titular theme song. However, it being the first Bond film, Dr. No used the now famous James Bond Theme song during it's opening title sequence, as well as a secondary song (to fit the mood of the film) called "Kingston Calypso".
1962 - James Bond - Dr. No title sequence

Album Cover
Community content is available under
CC-BY-SA
unless otherwise noted.