James Bond originated in the novels and short stories of Ian Fleming, and between 1953 and his death in 1964, he had written no less than fourteen books. Since then no less than six other writers have contributed to the series which Fleming started, bringing the total up to forty books, licenced by the Fleming estate. As with the films, and other media, some of these stick far closer to Fleming's original vision than others.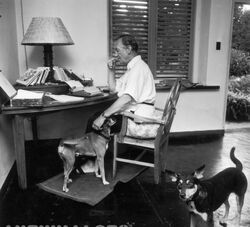 There is now a wide world of Bond media including films, comic strips, comic books, and video games. The various Post-Fleming continuation authors (1968-present) created their own separate literary continuities, whose only connection to one another is often Fleming's original novels.
Several novelizations, a number of spin-off books, film tie ins, short stories, and anthologies have also been published.
History
Fleming
After serving in the British Naval Intelligence Division during World War II, Fleming was inspired to write a novel about an international spy. Fleming bragged to his friends about how good he believed the book would be.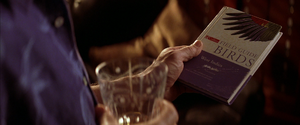 Fleming spent much of his time in Jamaica, and was a keen birdwatcher. He derived the name of his character from an American bird expert whose book on Caribbean birds he had enjoyed, and considered it to be bland yet masculine sounding.
Fleming gave the James Bond character some of his personal interests, including international travel, golf and gambling. He began writing his first Bond novel in 1952 in Jamaica over two months to take his mind off his upcoming wedding and pregnant fiancé. Casino Royale was published in 1953 to moderate reviews but great sales in the UK. It catered to a lot of wish fulfilment there, not just because of its beautiful women and exciting storyline, but also because Britain was still under rationing in the early fifties. The war itself had ended over five years earlier, but Britain was still littered with bomb sites and debt - Fleming's novel allowed ordinary people to enter a world of luxury, where characters drove fast cars, travelled the world, ate caviar and drank champagne.
Fleming, whose full time job was a foreign manager for a UK newspaper, used his annual three-month holiday to write each Bond book. This resulted in 1954's Live and Let Die, 1955's Moonraker, 1956's Diamonds Are Forever, 1957's From Russia with Love, 1958's Dr. No, 1959's Goldfinger, 1960's For Your Eyes Only -- a collection of short Bond stories -- 1961's Thunderball, 1962's The Spy Who Loved Me, 1963's On Her Magesty's Secret Service, and 1964's You Only Live Twice. Fleming was a heavy drinker and smoker and suffered heart disease. He suffered his first heart attack in 1961 and a fatal heart attack in August 1964. His final two books, 1965's The Man with the Golden Gun and 1966's collection of short stories Octopussy and The Living Daylights were published posthumously.
However, Fleming did live to see some of his work onscreen. He was apparently very impressed with Sean Connery in the role, and the films, and their influence affected the latter novels. Only Fleming's works were directly adapted for the screen, although other novelists have influenced later films. From the beginning, major changes were made to his work - the first TV adaptation of Casino Royale, Fleming's first novel, made Bond an American, and its first cinematic adaptation in 1967 departed from the novel even more, venturing into sixties psychedelia, slapstick and parodies of German Expressionism. Eon productions proclaim themselves as the official Bond film series, but while Dr. No, From Russia with Love and Goldfinger stayed reasonably faithful to the source material, Eon veered away from it after Fleming's death, with the likes of Diamonds are Forever and Moonraker owing very little to the original novels. As fashions and attitudes have changed, Bond films have also moved far away from Fleming's original conceptions.
Gildrose Publications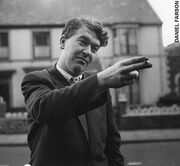 With the success and fortune found by Casino Royale, Fleming purchased the small publication company Gildrose Publications, which had only published his novel. Gildrose, latered renamed Ian Fleming Publications in 1999 continues to license the Bond franchise to this day, and to expand the literary catalogue.
Gildrose had planned on having several authors use the pen name "Robert Markham" to continue to produce more Bond books but this idea was scrapped after just one work, Colonel Sun, was written by English author and Bond fan Kingsley Amis in 1968. Amis was already a highly respected novelist, by the time he came to Bond, but when he wrote a short story about an elderly Bond returning in a time of crisis, but was refused permission to publish it.
Gildrose produced two novelizations to the EON films, James Bond, The Spy Who Loved Me and James Bond and Moonraker in 1977 and 1979, respectively written by Christopher Wood.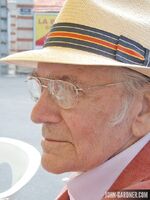 Gardner
After a thirteen year hiatus of original content (and recently after the death of Anne Charteris, Fleming's wife) Gildrose contracted John Gardner to come up with several new Bond novels and to bring Bond into the 1980s. In 1981 Licence Renewed was published to mediocre critical response and sales. Nevertheless Gardner wrote a total of sixteen Bond novels, including two novelizations of feature films. In 1996 Gardner published his last Bond book, COLD.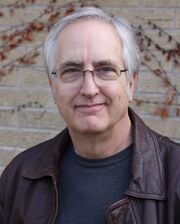 Benson
After Gardner's departure, Raymond Benson was contracted by Gildrose to continue the Bond story. Some fans accused Benson of Americanising the stories, but Benson also attempted to return to a more Flemingesque flavour than Gardner had provided.
Benson wrote six original Bond novels, starting with 1997's Zero Minus Ten. Benson's novels, like Gardner's, featured James Bond in a contemporary setting. He also wrote three film novelisations and three Bond short stories. In 2002, Benson left the Bond series. He is, to date, the only post-Fleming author to have had any Bond short stories published.
2000's (21st Century)
Ian Fleming Publications then asked British author Sebastian Faulks to pen a new Bond novel in the early 2000s. Faulks delivered a novel in 2008 entitled Devil May Care, which was set in the 1960s; this was a break from the contemporary settings which Gardner and Benson had attempted.
Faulks chose to not continue and was replaced with American author Jeffery Deaver who penned Carte Blanche in 2011 as a reboot of the character, returning to a modern setting.
In 2013 Ian Fleming Publications announced that William Boyd would write the thirty-eighth Bond book in time for the 60th literary anniversary. Solo was released in September 2013 in the UK and October 2013 in the US.
In 2014 it was announced that Anthony Horowitz would write the thirty-ninth Bond novel. He would be using previously unreleased material by Fleming as an inspiration. This would take the form of several plot treatments for a James Bond television series that was never made, many if which had previously been used as the basis of the short stories that formed the collections For Your Eyes Only and Octopussy and The Living Daylights. The book entitled Trigger Mortis was released in September 2015.
After a positive reaction to the novel, Horowitz was announced as writing a further Bond novel (also utilising material from Fleming) which released in 2018.[1] In February of that year it was announced that the new novel Forever and a Day would serve as a prequel to Casino Royale, adding to the list of authors writing period pieces to better fit into Fleming's world as opposed to bringing Bond forward into the modern era.
Entering the new decade, Ian Fleming Publications issued a message on social media about upcoming projects. They expressed a desire to bring new voices into the franchise with authors from varying backgrounds, and in 2021 it was announced that for the first time since 2008, a Spin-off series was to be produced alongside a third continuation novel by Horowitz. The spin-off series currently titled "Double O" is set to have three entries written by novelist Kim Sherwood. Horowitz however, has not confirmed interest or inspiration for a fourth title, leaving the main series' future uncertain for the time being.
List of novels
#
Title
Year
Author
Cover Artist
1
Casino Royale
1953
Ian Fleming
Ian Fleming
2
Live and Let Die
1954

Kenneth Lewis

3
Moonraker
1955
4
Diamonds Are Forever
1956

Pat Marriott

5
From Russia with Love
1957

Richard Chopping

6
Dr. No
1958
Pat Marriott
7
Goldfinger
1959
Richard Chopping
8
For Your Eyes Only (short stories)
1960
9
Thunderball
1961
10
The Spy Who Loved Me
1962
11
On Her Majesty's Secret Service
1963
12
You Only Live Twice
1964
13
The Man with the Golden Gun
1965
14
Octopussy and The Living Daylights (short stories)
1966
15
Colonel Sun
1968
Kingsley Amis
Tom Adams
16
Licence Renewed
1981
John Gardner
Richard Chopping
17
For Special Services
1982

Bill Botten

18
Icebreaker
1983
19
Role of Honour
1984

Trevor Scobie

20
Nobody Lives For Ever
1986
21
No Deals, Mr. Bond
1987
22
Scorpius
1988
23
Win, Lose or Die
1989
24
Brokenclaw
1990
25
The Man from Barbarossa
1991
26
Death is Forever
1992
27
Never Send Flowers
1993
28
SeaFire
1994

David Scutt

29
COLD
1996
30
Zero Minus Ten
1997
Raymond Benson
31
The Facts of Death
1998
32
High Time to Kill
1999
33
Doubleshot
2000
34
Never Dream of Dying
2001
Steve Stone
35
The Man with the Red Tattoo
2002
36
Devil May Care
2008
Sebastian Faulks
Kevin Summers
37
Carte Blanche
2011
Jeffery Deaver
38
Solo
2013
William Boyd
Suzanne Dean
39
Trigger Mortis
2015
Anthony Horowitz
Joy Cohn
40
Forever and a Day
2018
James Iacobelli
41
With a Mind to Kill
2022
TBA
List of novelisations
Title
Year
Author
Cover Artist
James Bond, The Spy Who Loved Me
1977
Christopher Wood

Bill Botten

James Bond and Moonraker
1979
Licence to Kill
1989
John Gardner
Keith Hamshere
GoldenEye
1995
Terry O'Neill
Tomorrow Never Dies
1997
Raymond Benson
The World is Not Enough
1999
Die Another Day
2002
List of spin-off works
Title
Year
Series
Author
003½: The Adventures of James Bond Junior
1967
R. D. Mascott
James Bond: The Authorised Biography of 007
1973
John Pearson

James Bond in Win, Place or Die

1985
Find Your Fate

R. L. Stine

James Bond in Strike It Deadly

Barbara Siegel

&

Scott Siegel

James Bond in Programmed for Danger

Jean M. Favors

James Bond in Barracuda Run

Steven Otfinoski

SilverFin
2005
Young Bond
Charlie Higson
Blood Fever
2006
Double or Die
2007
Hurricane Gold
By Royal Command
2008
Shoot to Kill
2013
Steve Cole
Heads You Die
2016
Strike Lightning
Red Nemesis
2017
Guardian Angel
2005
The Moneypenny Diaries
Samantha Weinberg
Secret Servant
2006
Final Fling
2008
Double or Nothing
2022
Double O
Kim Sherwood
Continuities
References