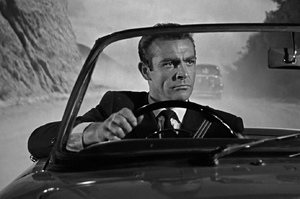 Vehicles have played an important role throughout the series of James Bond novels and films. "Q branch" - a division of the British Secret Service which provides equipment to field operatives - has given Bond a wide variety of vehicles with which to evade his enemies. Among the most noteworthy gadgets, Bond has been equipped with various vehicles that have numerous modifications to include expensive weapons systems, anti-pursuit systems, alternative transportation modes, and various other functions.
Automobiles
| | |
| --- | --- |
| | Bentley 3½ Litre - Featured in the film From Russia with Love. Presented to the public in September 1933, it was the first new Bentley model following Rolls-Royce's acquisition of the Bentley brand in 1931. A drophead 1935 Bentley 3½ Litre was briefly featured in the 1963 movie From Russia with Love as Bond's first Q Branch equipped vehicle. |
| | 1930 Bentley 4½ Litre (Blower Bentley) - Featured in the novels Casino Royale, Live and Let Die and Moonraker. The Bentley 4½ Litre is a British sports car built by Bentley Motors and is famous for epitomizing prewar British motor racing. The Blower Bentley was Bond's first vehicle. |
| | Bentley Mark VI - Made in 1953, Bond purchases his second Bentley towards the end of the novel, Moonraker. Like his previous Bentley, the Mark VI is grey with dark blue leather upholstery. After Moonraker this model is never mentioned again. |
| | Bentley Mark II Continental - This Bentley was featured in the novel Thunderball and is Bond's final Bentley. Bond upgrades the engine from a 4.5 liter engine to a 4.9 liter. The Mark II was also grey, however, the interior was black leather. The Mark II Continental is last seen in the novel On Her Majesty's Secret Service where Bond upgrades the vehicles once again with an Arnott supercharger controlled by a magnetic clutch. Bond dubs the car "the locomotive". |
| | Bentley Mulsanne Turbo - Bond purchases a Mulsanne Turbo in John Gardner's Role of Honour. The car is British racing green with magnolia interior. It is outfitted with a long-range telephone and a hidden weapon compartment. |
Aston Martin DB5 - Featured primarily in Goldfinger. The most famous Bond car of all, it came with all the usual Q Branch refinements which have been copied from movie to movie including bulletproof front and rear panels, oil slick, smoke screen, machine guns, rotating licence plates, telescoping tire slashers, tracer-receiving console and most famously, the passenger ejector seat. While being the most recognized Bond car, it's actually only been featured in eight films (Goldfinger, Thunderball, GoldenEye, Tomorrow Never Dies, Casino Royale, and a nod to the Goldfinger version in Skyfall, Spectre and No Time to Die).
Aston Martin DB Mark III - Featured in the novel Goldfinger. While referred to as a "DB III", the "DB3" was a car designed specifically for racing and is unlikely that Bond would drive one. The DB Mark III is often called the DB III and is more comparable to its description in Fleming's novel. This car was the only gadget-laden vehicle to be mentioned in the original Bond novels. It included switches to alter the type of color of the front and rear lights, reinforced steel bumpers, a Colt .45 pistol in a trick compartment under the driver's seat, and a homing device similar to the DB5 in the film adaptation.
Aston Martin DBS - Featured in On Her Majesty's Secret Service. The car was seen in only four scenes, including the pre-credits teaser and as James & Tracy's wedding car. Nothing is known about what kind of gadgets were installed, except that it had a hiding place for a sniper rifle in the glovebox. Obviously - given what happens at the end of that movie - it was not fitted with bulletproof glass.
Aston Martin V8 Vantage Volante - Featured in The Living Daylights. A convertible, which was later "winterised" with a hardtop. Came with all the usual refinements including side skis, spiked tires, missiles, hubcap-mounted lasers, rocket propulsion and a self-destruct mechanism.
Aston Martin V12 Vanquish - Featured in the Die Another Day. Also dubbed the "Vanish" due to its ability to become invisible to the naked eye. The car is equipped with all the usual refinements including front-firing rockets, hood-mounted target-seeking shotguns, and passenger ejector seat that was a homage to original Aston Martin DB5 from Goldfinger.
Aston Martin DBS V12 - Featured in Casino Royale and Quantum of Solace. It has no Gadgets but compartments Containing a suppressed Walther P99, and some medical equipment, including a defibrillator, most likely based on the compartment under the seat in the novel Goldfinger.
Aston Martin DB10 - Featured in Spectre (film). It contained several gadgets including flamethrowers, built in machine guns, an HUD Target Lock, and a driver ejector seat (the gadget also used in the Aston Martin DB5 in Goldfinger).
File:Vehicle - Aston Martin DBS Superleggera.png

Aston Martin DBS Superleggera

- Featured in No Time To Die.
File:Vehicle - Aston Martin Valhalla.png
Aston Martin Valhalla - Featured in No Time To Die.
| | |
| --- | --- |
| | Lotus Esprit S1 (1976) - Featured in The Spy Who Loved Me. The S1 was fondly referred to as 'Wet Nellie' - a tribute to Bond's autogyro, 'Little Nellie' from You Only Live Twice. As well as being amphibious, the highly armed car has cannons that spray cement on to pursuing vehicles. It also has wheel arches that turn into fins, a small periscope on the roof enabling 007 to navigate at speed underwater and its other weaponry includes a missile launched from its rear deck, mines, sprayed black dye, and torpedoes shot from the front grille. |
| | Lotus Turbo Esprit (1980) - Featured in For Your Eyes Only, this vehicle was cosmetically similar to the S1, but mechanically different, as it exhibited no submarine capabilities. It was most notable for its remarkable security system, which detonated and destroyed the car when Gonzales' henchman broke the driver's window in an attempt to force entry into the car. Q Branch provided a second Turbo to Bond - in bronze instead of white - later in the movie. |
| | |
| --- | --- |
| | BMW Z3 - Featured in GoldenEye. A controversial choice for some Bond purists, it being the first non-British production car to feature in a Bond movie as the spy's primary mode of transport. A convertible, it comes fully equipped with "all the usual refinements" including a self-destruct system and stinger missiles located behind the headlights. The car in the film is only driven briefly in Cuba, and Bond ends up trading it for Jack Wade's plane. |
| | BMW 750iL - Featured in Tomorrow Never Dies. Used in Germany, the 750iL could be controlled remotely via Bond's cell phone. Defense mechanisms included a rocket launcher, re-inflating tires, a cable cutting device in the front hood emblem and a caltrop dispenser. The 750iL also came equipped with an advanced security system and a fingerprint-protected safe hidden behind the passenger airbag compartment. |
| | BMW R1200 - Featured in Tomorrow Never Dies. Stolen in Saigon, the BMW R1200 motorcycle was used in a chase sequence through the city and was ridden by both James Bond and Wai Lin of the People's Republic of China. |
| | BMW Z8 - Featured in The World Is Not Enough. Equipped with "all the usual refinements" including ground to air missiles and a key chain that can control the car remotely. The car is sawn in half by a brush-cutter-equipped helicopter late in the film. So far in the film series, this marks the only occasion when Bond has expressed concern about Q being upset with James wreaking havoc on cars and equipment. Ironically, this takes place after Desmond Llewelyn makes his final appearance on the screen as Q. |
| | BMW 520i - Featured in the Gardner novel Win, Lose or Die. During the course of the novel M prohibits Bond from taking his Bentley Mulsanne Turbo and recommends that he opt for a more subtle car from the company car pool; a BMW 520i in unobtrusive dark-blue. |
| | |
| --- | --- |
| | Ford Mustang Convertible - Featured in Goldfinger; Tilly Masterson is seen driving a white Mustang - the convertible is totaled after Bond shreds the tires and lower rocker panels. This was the first appearance of a Mustang in a feature film. Other Fords were seen in the film, including a Ranchero and a Lincoln Continental. |
| | 1964 Ford Thunderbird - While not an official Bond car, Felix Leiter and his partner from the CIA are driving a Ford Thunderbird in the film Goldfinger. A tracking device similar to the one in Bond's Aston Martin DB5 was incorporated in the car's instrument panel. |
| | 1965 Ford Mustang Convertible - Featured in Thunderball. Fiona Volpe drives a sky blue Mustang while in the Bahamas, and gives Bond a lift back to his hotel, taking the car up to 100 mph on a tree lined country road. |
| | 1969 Mercury Cougar convertible - Featured in On Her Majesty's Secret Service. This car is owned by Tracy Di Vincenzo and features prominently in Bond's escape from Piz Gloria. |
| | 1971 Ford Mustang Mach 1 Fastback - Featured in Diamonds Are Forever. After escaping henchmen Bond is picked up by Tiffany Case in this car while in Las Vegas; Bond uses it to elude the Las Vegas Police (all of the police vehicles including the security guard vehicles at Willard Whyte's Techtronics Laboratory are 1971 Ford Custom 500s except for the Las Vegas P.D. which were 1970 Fords). |
| | 1971 Ford Econoline - Featured in Diamonds Are Forever. Dr. Metz is driving a van which Bonds sneaks into. |
| | Ford Taunus - Featured in The Spy Who Loved Me where Karl Stromberg's thugs are pursuing Bond on a highway in Sardinia (with Jaws as a passenger), Bond sprays grease on the windshield where the car runs off the road - this is where Jaws walks away). |
| | 1983 Ford LTD - Featured in A View to a Kill. Right after Bonds leaves San Francisco City Hall, this vehicle is briefly seen when Bond follows Stacey on the Embarcadero Freeway later arriving at her mansion. |
| | 2002 Ford Thunderbird - Featured in Die Another Day. Although only on screen for a short period of time, the vehicle was marketed as a Bond car. In fact Ford created a special "007 edition" of the car. In Bond spirit, only 700 were made. Jinx drives the 2002 Ford Thunderbird up to Graves ice palace. It's unknown what type of gadgets, if any, were installed. |
| | 1957 Ford Fairlane 500 Skyliner - Featured in Die Another Day. Classic automobile briefly driven by Bond during his visit to Cuba. A homage to Dr. No when Bond drives a 1957 Chevrolet Bel Air, a classic Ford was used in the film since FoMoCo vehicles (including those from Ford's Premiere Automotive Group) were extensively used. |
| | 2006 Ford Mondeo ST 2.5 MkIV - Featured in Casino Royale. As part of a product placement, Bond drives a Mk IV Mondeo hatchback when he arrives in Nassau. Because the car was required for filming early in 2006, more than a year before it became commercially available, it was hand-built at Ford of Europe's Design Studio in Cologne, Germany and shipped to the Bahamas under a veil of secrecy. |
| | |
| --- | --- |
| | 1937 Rolls-Royce Phantom III - Featured in Goldfinger. Owned by Auric Goldfinger, it was used to smuggle gold by recasting all of the body panels in gold and shipping it from place to place. Often mistakenly called the "Phantom 337" as that is what Connery said in the film. If the car was actually called the "337," Connery probably would have spelled out "three-three-seven," as the British commonly do. |
| | Rolls-Royce Corniche - Featured in On Her Majesty's Secret Service. In On Her Majesty's Secret Service, a Corniche is owned by Marc-Ange Draco and is used to abduct James Bond. (The Corniche, Silver Shadow saloon, and Silver Wraith II saloon were based on the same platform.) |
| | Rolls-Royce Silver Wraith II - Featured in Moonraker and For Your Eyes Only. When Bond arrives in Rio de Janeiro, he is seen as a passenger in a blue Silver Wraith II which takes him to his hotel. In For Your Eyes Only, a Silver Wraith II is owned by Aris Kristatos and takes Bond and the Countess Lisl home from the casino. |
| | 1962 Rolls-Royce Silver Cloud - Featured in A View to a Kill and driven by Bond's companion Sir Godfrey Tibbett. Along with its driver, it meets an untimely demise when pushed into a lake by May Day. |
| | Rolls-Royce Silver Shadow - Featured in Licence To Kill where Bond is chauffeured around Isthmus City. Also featured in The World Is Not Enough as Valentin Zukovsky's personal vehicle (it ends up in the Caspian Sea after the catwalk was severed). |
| | |
| --- | --- |
| | 1957 Chevrolet Bel Air convertible - Featured in Dr. No. When 007 arrives in Jamaica, this was the first car Bond was a passenger in; however, the car was stolen, as depicted later in the film. It is driven by a chauffeur known only as "Mr Jones" who is in fact an agent of Dr. No. |
| | 1963 Chevrolet Impala convertible - Featured in Live and Let Die. Bond arrives on Dr. Kananga's island with Rosie Carver locating the spot where Bains was killed. |
| | 1977 Cadillac Fleetwood limousine - Featured in A View to a Kill. Zorin's thugs flee Stacy's mansion in a Cadillac limousine - Bond fires several rounds even the rounds are useless (the shotgun shells were filled with rocksalt). |
| | Chevrolet Corvette C4 - Featured in A View to a Kill, presumably a rental vehicle and driven by Pola Ivanova when she and Bond make their escape from Zorin's pumping station. |
Other passenger cars
| | |
| --- | --- |
| | Sunbeam Alpine roadster - Featured in Dr. No. Bond drives to Miss Taro's home in the Blue Mountains; he is pursued by Dr. No's thugs driving a LaSalle hearse. In the novel version, Bond drives the car that formerly belonged to Commander Strangways, the murdered agent in Kingston. It is also driven by Quarrel. |
| | Toyota 2000GT convertible - Featured in You Only Live Twice. Owned by Aki. Two prototype convertibles were built especially for the film; no others were made. One 2000GT convertible was located in South Africa awaiting restoration into the Cars for the Stars museum. |
| | Triumph Stag - In Diamonds Are Forever, Connery is seen early in the movie driving a yellow Stag to Amsterdam, while posing as diamond smuggler Peter Franks. |
| | Studillac - Featured in the novel Diamonds Are Forever. A custom black Studebaker convertible with a Cadillac engine, plus special transmission, brakes and rear axle, owned by Felix Leiter. The combination of the aerodynamic Raymond Loewy designed body with the powerful Cadillac engine made it into a remarkable sports car. Studillacs were not fictional, but actually built by a Long Island, NY company called Bill Frick Motors from 1953 Studebaker Starlight bodies. |
| | Mini Moke - Featured briefly in Live and Let Die and later in The Spy Who Loved Me. In Live and Let Die, Bond and Rosie use this vehicle to drive to the harbour to meet Quarrel Jr. In The Spy Who Loved Me, the crew of the Liparus supertanker use a Mini Moke in their defence against a break out by the submarine crews. |
| | 1971 Cadillac Fleetwood - Featured in Live and Let Die. When Bond spots the white Superfly-esque pimpmobile (a Les Dunham Corvorado - a Chevrolet Corvette with Cadillac Eldorado body panels), Mr. Big, Solitaire, and Tee Hee leave their secret facility where a voodoo shop is actually one of Dr. Kananga's hideouts. The Cadillac is later seen outside a Fillet of Soul restaurant alongside a Dunham-converted Cadillac Eldorado coupe. |
| | Citroën 2CV - Featured in For Your Eyes Only. A tiny but seemingly indestructible (rental) car belonging to Melina Havelock that Bond uses to make a "fast" getaway after Melina assassinates Hector Gonzales, who murdered her parents. The car used in the movie was allegedly fitted with a Citroën GS 4-cylinder boxer engine (in place of the standard 2-cylinder boxer), to make it able to outrun the two Peugeot 504s in pursuit. |
| | Alfa Romeo GTV6 - Featured in Octopussy. After falling from Octopussy's train and hitching a lift in a Volkswagen Beetle, Bond steals this car to make the last stage of his journey to the US Air Force Base. West German police BMW 5 Series pursue Bond after his theft of the vehicle. Interestingly, sharp eyes will spot that this is a GTV 6 Quadrifoglio, the highest specification Alfa Romeo available, and widely considered the finest of these cars, as well as the fastest. |
| | Bajaj RE taxi - Featured in Octopussy. Two of these basic auto rickshaws are used in a chase sequence through the streets of Udaipur - Bond and fellow MI6 agent Vijay being in one, with Gobinda and his henchmen in the pursuing vehicle. It is insinuated that the auto-wallah driven by Vijay has been modified by MI6 as the tone of the engine becomes more like a motorcycle and Vijay performs a wheelie, exclaiming "This is a company car!" |
| | Mercedes 250SE - Featured in Octopussy. Bond commandeers this Soviet Army staff car to pursue Octopussy's train. When the tires are shredded by a spikestrip, Bond turns onto the railway line and drives the car along the rails until he escapes just before the car is knocked into the river by an oncoming train. |
| | Renault 11 Taxi - Featured in A View to a Kill, Bond commandeers this car and takes it on a pursuit through Paris. During the pursuit the car has its roof chopped off and then later the entire back half of the car is ripped off. |
| | Audi 200 Quattro - Featured in The Living Daylights. An Austrian-registered is used as a getaway car after Koskov's defection at the start of the film. Later, Bond is seen driving an Audi 100 Avant in Tangier, following General Pushkin. |
| | Ferrari F355 GTS - Featured in GoldenEye. Xenia Onatopp playfully races James Bond in his Aston Martin DB5 by chance on the mountain roads behind Monte Carlo in this vehicle, which is later revealed to have false French registration plates, hinting that it may be stolen. |
| | Jaguar XKR - A convertible driven by Zao in Die Another Day, the car was extremely similar in almost every way to a James Bond automobile. The vehicle includes a gatling gun, thermal imaging capabilities, mortar bombs, rockets under the front grille, miniature missiles hidden in the door, and front ramming spikes. |
Other vehicles
| | |
| --- | --- |
| | Dragon tank - Featured in Dr. No. A modified swamp buggy with dragon camouflage and armor plating. The dragon tank was employed by Dr. Julius No to keep inquisitive locals away from his operations on Crab Key. It is equipped with a forward-firing flame thrower. |
| | BSA Lightning A65L - Featured in Thunderball. A modified BSA Lightning motorcycle employed by SPECTRE agent, Fiona Volpe. It is equipped with forward-firing rockets. |
| | Moon buggy - Featured in Diamonds Are Forever. Used by Bond to escape from the laboratory. Fast but infamously fragile, one of its wheels can be seen rolling past the camera position as Bond drives by it during the escape. |
| | Honda ATV vehicle - Featured in Diamonds Are Forever. Bond commanders an all-terrain vehicle after he ditches the moon buggy. |
| | 1947 AEC Regent III RT246 - Featured in Live and Let Die. A double-decker bus which was used by Bond and Solitaire in their escape from Kananga. En route it becomes a single-decker bus thanks to an inconveniently placed low bridge. |
| | San Francisco Fire Department Fire Truck - Featured in A View to a Kill. Ladder truck commandeered by Bond and Stacey. |
| | 1971 Land-Rover 88 Series III - Featured in The Living Daylights. To make his getaway from Gibraltar, Imposter 00 steals a vehicle loaded with munitions. Appears in the pre-title sequence. |
| | 1978 GMC Vandura - Featured in The Living Daylights. Used by Koskov and Necros to smuggle diamonds (and Bond) out of Tangier. |
| | Mercedes-Benz Unimog-S 404 AFV - Featured in The Living Daylights. Used by Koskov to transport diamonds, one in pursuit of Bond in Czechoslovakia, and one briefly shown at Colonel Moon's HQ in Die Another Day. |
| | Panhard AML - Featured in The Living Daylights. Two pursue Mujahadeen fighters across the bridge. |
| | T-55 battle tank - Featured in GoldenEye. A Russian tank taken by Bond to pursue General Ourumov in St. Petersburg. |
Aircraft
Lockheed JetStar - Featured in Goldfinger. Used as Auric Goldfinger's private jet. It is later disguised as a United States Air Force C-140 transport to kidnap Bond while Goldfinger makes his escape.
Bell-Textron Jet Pack - Featured in Thunderball. A rocket pack based on the Bell rocket belt.
Avro Vulcan - SPECTRE hijack a Vulcan in Thunderball, crashlanding it in the ocean to steal its nuclear payload.
Kawasaki KV-107 - A vehicle pursuing Bond and Aki in You Only Live Twice is dispatched by the use of this Japanese variant of the Boeing-Vertol Sea Knight and a large magnet suspended from the helicopter.
Little Nellie (Wallis WA-116 Series 1) - Featured in You Only Live Twice. A heavily armed gyrocopter that could be transported in several cases and quickly assembled in the field.
Car Plane - Featured in The Man with the Golden Gun. Based on a 1974 AMC Matador coupe, owned by Scaramanga. During a car chase with Bond, Scaramanga drives the Matador into a disused barn, which was housing the plane section (two wings and a jet engine). Scaramanga clamps the plane section onto the top of the Matador and uses it to fly away from Bond.
Bell 206 JetRanger - Featured in The Spy Who Loved Me. The Bell 206 is owned by Karl Stromberg. When Bond begins investigating his affairs, chopper pilot Naomi is dispatched to assassinate him from the air. A chase sequence across the Italian island of Sardinia ensues, culminating in Bond's Lotus Esprit being driven off the end of a pier into the sea. Unaware of its sub-aquatic abilities, Naomi was eliminated by a surface to air missile launched by the car.
Handley Page Jetstream - In the pre-titles sequence of Moonraker, Bond is almost left stranded on this aircraft with no pilot and no instruments, until he is pushed out with no parachute by Jaws.
Cessna A185F - Featured in For Your Eyes Only. Flown by Cuban hitman, Hector Gonzales. After flying Melina Havelock to Corfu he gunned down her parents with a machine gun mounted on the underside the plane.|
Acrostar Jet - Featured in Octopussy. The Acrostar was used to escape from a mission in the opening sequence. The wings and nosecone section of this plane fold up vertically while not in use allowing it to be stored in small compartments (in this case a horse trailer).
Hot Air Balloon - Featured in Octopussy. A Union-Jack emblazoned Hot Air Balloon, used by Q and Bond to storm Kamal Khan's palace. It is equipped with CCTV cameras.
Beechcraft Model 18 - Featured in Octopussy. It is Kamal Khan's private aircraft. Bond grips onto the aircraft during take off and, after a fight with Gobinda atop the Twin Beech, rescues Octopussy before it crashes.
Zorin's Blimp - Featured in A View To A Kill. The antagonist, Max Zorin, utilises two types of blimp: the first, a larger airship, is used for conferencing facilities. The second, a much smaller model, was intended to be used for Zorin to watch the destruction of Silicon Valley, but with that plan thwarted was a getaway vehicle that meets its end on the Golden Gate Bridge.
British Aerospace Harrier T4 - Featured in The Living Daylights. This aircraft is used to assist Koskov's defection to the West.
Lockheed Hercules - Two examples are used in The Living Daylights. The first, seen in the pre-titles sequence, is a Royal Air Force example and is M's flying office. It is the staging post for the 00-section penetration of the Gibraltar radar installation. The second example is a Soviet Air Force transport, used extensively during Bond's escape from Afghanistan. It should be noted, of course, that the Soviet Air Force did not operate any western aircraft types in reality, including the Hercules.
Piper PA-18-150 Super Cub - Featured in Licence to Kill. A crop dusting plane flown by Pam Bouvier in pursuit of Franz Sanchez's cocaine-filled Tankers. It is crippled by a stinger surface-to-air missile during the chase sequence.
Eurocopter Tiger - Featured in GoldenEye. Xenia Onatopp and General Ourumov steal an EMP-resistant Tiger helicopter in order to obtain the GoldenEye access codes.
Mikoyan MiG-29 - Featured in GoldenEye. Three respond to the emergency alarm triggered at the Severnaya facility. All are destroyed by the

electromagnetic pulse

generated by the GoldenEye satellite weapon.
Cessna 172P Skyhawk - Featured in GoldenEye, Bond flew a Cessna 172 whilst scouting for a satellite dish in Cuba.
Aero L-39 Albatros - Two are featured in the pre-titles sequence of Tomorrow Never Dies. Bond commandeers one in an attempt to evacuate a nuclear torpedo before a missile strike, the other pursues in an attempt to stop him.
Parahawk - Several are featured in The World Is Not Enough. They are hybrid paragliders/snowmobiles and are capable of flight or driving across arctic terrain. Several are sent to kill Bond as part of a scheme devised by Electra King and Renard.
Switchblades - Featured in Die Another Day, the Switchblade is essentially a one-man glider shaped like a fighter jet. It features retractable wings that control the speed and trajectory of the craft. Fitted with the same material on a stealth bomber, the switchblade allows Bond and Jinx to enter North Korea undetected. The switchblade is based on a workable model called "PHASST" (Programmable High Altitude Single Soldier Transport).
Antonov An-124 - Featured in Die Another Day, this aircraft is used to transport Gustav Graves' equipment out of Iceland. It is later used as Graves' airborne command centre during the Icarus attack on the

Korean DMZ

.
Boeing 747-236B 'Skyfleet S570' - Featured in Casino Royale. A 'prototype' airliner which Le Chiffre conspired to destroy. Transformed using physical props and CGI, it is actually a modified ex-British Airways Boeing 747-200 G-BDXJ.
Douglas DC-3-313 - Featured in Quantum of Solace. An old passenger aircraft Bond exchanges for a 2008 Land-Rover Range Rover Sport. It was used to investigate Quantum's activity in the Bolivian desert and was shot down during a skirmish with an Aermacchi SF 260 plane.
Aermacchi SF 260 - Featured in Quantum of Solace. While investigating over the Bolivian desert, Bond's DC-3 fell under attack from an Aermacchi SF 260, presumably sent by the Quantum organisation.
AgustaWestland AW101 - Featured in Skyfall. A helicopter used by Silva and his men during the assault on Skyfall Lodge. It was subsequently destroyed by a gas cylinder explosion from within the house.
Spacecraft
| | |
| --- | --- |
| | Bird One - Featured in You Only Live Twice. Built by SPECTRE, the Bird One spacecraft was designed to kidnap American and Soviet orbital vehicles, engulfing the target craft and returning it to SPECTRE's hidden launch site in Japan. |
| | Moonraker Shuttle - Featured in Moonraker. "Moonraker" is a brand name applied to a space shuttle orbiter design, built by Drax Industries for NASA. Though the actual Space Shuttle had not flown by the time Moonraker was released, the Drax Moonraker is identical in design. These were named Moonraker 1-6. |
Marine vehicles
Disco Volante – A fictional ship in the James Bond novel Thunderball (novel) (1961) and its 1965 film adaptation of the same name. It was a luxurious hydrofoil craft owned by Emilio Largo, an agent of SPECTRE.
Liparus – Karl Stromberg's million ton, submarine swallowing, tanker from The Spy Who Loved Me.
Atlantis – Karl Stromberg's submersable base from The Spy Who Loved Me.
Wetbike – Featured in The Spy Who Loved Me. A hydrofoil "water motorcycle", built by a unit of Minnesota-based Arctic Enterprises. Used by Bond to travel from the US Submarine to Stromberg's Atlantis to save Triple X.
Wet Nellie (Lotus Esprit S2) – Featured in The Spy Who Loved Me. A modified Lotus Esprit S2 that could transform into a submarine.

Q's Hydrofoil Boat

– Featured in Moonraker; based on a Glastron design. Bond uses this boat to escape from Jaws while searching for the spacecraft launching facility. Comes with all the usual Q refinements such as tracking torpedoes and a hang-glider when an immediate ditching of the boat was required.
Gondola – Featured in Moonraker. While attacked on the canals of Venice, Bond escapes his assailants by using his gondola's hidden self-propulsion system which also included a hovercraft function to leave the water.
Alligator Boat – Featured in Octopussy. Bond travels to Octopussy's island inside a boat designed to look like an alligator.
Iceberg – Featured in A View To A Kill. Bond escapes from a mission in Siberia by getting into a boat/submarine built to look like an iceberg.
Stealth Ship – Featured in Tomorrow Never Dies. The Stealth Ship is an almost undetectable ship owned by media mogul Elliot Carver.
Q Boat – Featured in The World is Not Enough. Was created by Q as a "fishing boat" for his retirement. Came with missiles and a GPS tracking system. It could also submerge although the pilot either needed to have his own breathing apparatus or surface quickly before he drowned. However, this feature wasn't exactly finished when Bond took it which could account for why the pilot was exposed to the water using that function.
See also