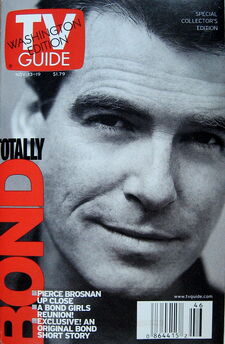 "Live at Five" is the twelfth James Bond short story and the third and final one written by Raymond Benson. It was first published in the November 13, 1999 issue of TV Guide magazine.
It was published the week The World Is Not Enough arrived in movie theaters in America and is the shortest of all James Bond stories, even shorter than Fleming's previous record-holder "007 in New York".
Synopsis
Running only a couple of thousand words, if that, it is a trifle in which Bond, en route to a date with a female TV news reporter, recalls how he once helped a Russian figure skating champion defect in full view of TV cameras.
Rarity
Due to the fact that this issue of TV Guide was only available in the United States for a short period of time, this story was, until its reprinting in 2011, one of the harder stories in the Bond literary canon to find.
By comparison, the two issues of Playboy in which Benson's other stories appeared are readily available through the collector's market and in used book stores, and the magazine has distribution in Britain, although that's not the same as the stories being published in that country. There is a collectors' market for back issues of TV Guide, and the Bond issue is considered particularly collectable, but this market rarely extends beyond the U.S.
Reprints and translations
The story was reprinted as a bonus feature in the 2011 omnibus Choice of Weapons: Three 007 Novels.
A translation into Italian of this short story has been featured on the now-closed Italian monthly "Carnet". The translator was the magazine managing editor Enrico Casarini.
Community content is available under
CC-BY-SA
unless otherwise noted.