Jurassic World: Dominion Dominates Fandom Wikis - The Loop
Play Sound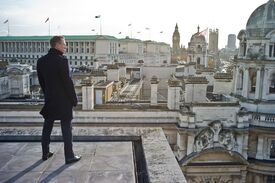 London is the capital and largest city of England and the United Kingdom.[1][2] Standing on the River Thames in the south-east of England, at the head of its 50-mile (80 km) estuary leading to the North Sea, London has been a major settlement for two millennia. Londinium was founded by the Romans.[3] The City of London, London's ancient core covers an area of just 1.12 square miles (2.9 km²).[4] The City of Westminster is also an Inner London borough holding city status. As the home of the British Government and the Secret Intelligence Service, the city featured prominently across the James Bond franchise; beginning with Ian Fleming's 1953 novel, Casino Royale.
Appearances
Novel appearances
Film appearances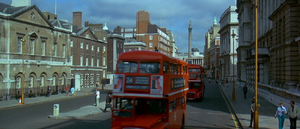 London is where James Bond's headquarters is located. The Headquarter is often spoken of as "Universal Exports" which is the pseudonym of the British Secret Service MI6. At MI6 Headquarter we often meet M who will give Bond his mission. Another very famous and very often used character is Miss Moneypenny. Who is the MI6 secretes. Usually MI6 headquarter is also were we meet Q who will provide Bond with new equipment for his mission.
Bond goes to an auction room in Sotheby's to bid for a Faberge Egg against Kamal Khan in Octopussy. In The World Is Not Enough Bond chases after an assassin down the river Thames in a speed boat from Q Branch to the Millenium Stadium. In Die Another Day secret underground trains which were referred to in You Only Live Twice were shown. In Skyfall Bond pursues Raoul Silva throughout metropolitan London, who is trying to kill M.
Alternate continuities
The pre-title sequence of Electronic Arts' 2005 video game, From Russia with Love, is centered around the Palace of Westminster in London. Bond is tasked with protecting the Prime Minister's daughter from a kidnapping attempt by the criminal organisation, Octopus.
References