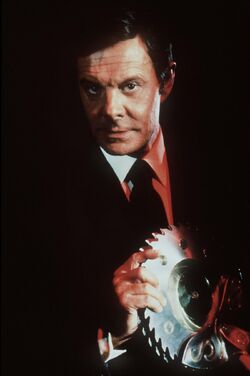 Louis Jourdan (born 19 June, 1921 – 14 February 2015) was a French actor. He played the role of Bond villian Kamal Khan in the James Bond movie Octopussy.
Louis Jourdan had a long and profilic film career. He made his film debut in the French movie Le Corsaire (1939) and fought with the French Resistance against the Nazis (he refused to do propaganda films for the Nazis). The handsome and dashing actor came to Hollywood in the late 1940s and played his first role in Alfred Hitchcocks The Paradine Case (1947). Although he portrayed "French lovers" successfully in many movies, he thought was too often stereotyped in those roles. He played in Letter from an Unknown Woman (1948) with Joan Fontaine, in Three Coins in the Fountain (1954) with Clifton Webb and The Swan (1955) with Grace Kelly and Alec Guinness. One of his best-known roles was leading men Gaston Lachaille in the classic musical film Gigi (1958), which won nine Oscars.
In later years Jourdan often played villianous roles like Count Dracula in Dracula (1977), Kamal Khan in Octopussy (1983) and Dr. Anton Arcade in Swamp Thing (1985). He made his last movie in 1992 and retired in Los Angeles. He was married with Berthe Frédérique "Quique" Jourdan from 1946 until her death in 2014. Their only son Louis Henry Jourdan (1951–1981) commited suicide.
Louis Jourdan has two stars on the Hollywood Walk of Fame, he was also a member of the French Legion of Honour since 2010.
Jourdan died at his home in Beverly Hills on 14 February 2015 at the age of 93.
Gallery
References
External links
Community content is available under
CC-BY-SA
unless otherwise noted.