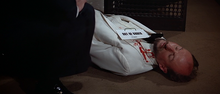 Max Kalba was the fictional owner of the Mojaba Club, in Egypt, who has taken possession of the submarine tracking system sold on the black market by Karl Stromberg's assistant. A supporting character, Kalba appeared briefly in the 1977 James Bond film The Spy Who Loved Me and was portrayed by actor Vernon Dobtcheff. The businessman also appeared in Christopher Wood's accompanying novelisation.
Biography
After the submarine tracking system, created by misanthropic billionaire Karl Stromberg in order to locate and capture many nuclear submarines, has been sold in the black market by his unfaithful assistant, Max Kalba, the owner of the Mojaba Club, in Egypt, acquires the microfilm. This leads Stromberg to sends his giant henchman, Jaws, to kill him.
At the same time, British and Russian agents James Bond and Anya Amasova are investigating the microfilm and after middleman Aziz Fekkesh was killed by Jaws, they both go to the Mojaba Club to meet Kalba and try to negotiate for obtain the document. However, before that can be done, Kalba suddenly receives an urgent phone and leaves. While telephoning, the man is then confronted and killed by Jaws, who also retrieves the microfilm being followed by Bond and Amasova.
Alternate continuities
To be added.
Gallery
References
Community content is available under
CC-BY-SA
unless otherwise noted.