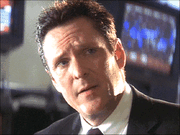 Michael Madsen (born September 25, 1958 in Chicago, Illinois, USA) is a noted character actor who has appeared in more than 150 independent and mainstream films including Reservoir Dogs, Free Willy 1 and 2, Wyatt Earp, Mulholland Falls, Donnie Brasco, the James Bond film Die Another Day (where he portrayed Damian Falco), Kill Bill, Sin City, Vice and The Hateful Eight. He is also a poet and photographer and is the brother of acclaimed character actress Virginia Madsen. His son Christian is also a child actor and aspiring filmmaker.
Madsen also appeared on short-lived shows such as "Vengeance Unlimited", "Big Apple", "Tilt" and "The Mob Doctor". He also guest-starred on "St. Elsewhere", "CSI: Miami", "24", "Blue Bloods", the new "Hawaii Five-0" and "Golden Boy".
Madsen has also gone various video game voice-overs and appeared in recent films such as Living & Dying, Strength and Honour, Hell Ride, Hired Gun, The Kid: Chamaco, The Killing Jar, Terror Trap, Dirty Little Trick and Beyond the Trophy
Madsen was often seen sharing the screen with the likes of real-life acting pals Dennis Hopper, Daryl Hannah, David Carradine, Joe Estevez and Harvey Keitel. He also was often seen working with Rutger Hauer, Angie Everhart, Danny Glover, Daniel Baldwin, Roy Scheider, Cary-Hiroyuki Tagawa and Gary Busey.
External links
Community content is available under
CC-BY-SA
unless otherwise noted.