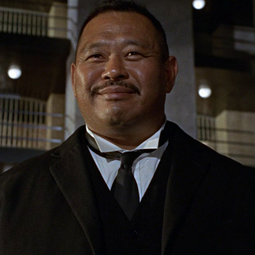 Oddjob is the fictional henchman to the villain Auric Goldfinger. The character was invented by author Ian Fleming for the 1959 novel Goldfinger, and was adapted for the motion picture of the same name in 1964, portrayed by Japanese American actor Harold Sakata. Sakata's likeness has subsequently been used to represent the character in numerous James Bond video games, most notably GoldenEye 007 (1997), James Bond 007 (1998), GoldenEye: Rogue Agent (2004) and 007 Legends (2012). Oddjob was also re-imagined for the 1991-92 spin-off series James Bond Jr. The character of Oddjob, from his unusual appearance, manners, strength and method of killing, forms the archetype for many henchmen of the Bond film series, including Tee Hee, Jaws, Gobinda, Stamper, Zao and Mr. Hinx.
Literary
Movies
Video Games
Spin-offs
Community content is available under
CC-BY-SA
unless otherwise noted.