Novel
—
Film
—
Radio drama
—
Soundtrack
—
Song
—
Characters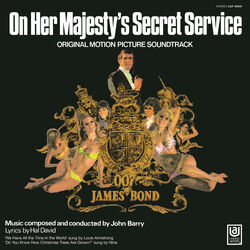 Once again, the soundtrack to this James Bond adventure was composed, arranged, and conducted by John Barry; it was his fifth successive Bond film. The opening theme proved a difficult composition; up until this point, the opening themes to all of the previous Bonds ( with the exception of the three-tune medley from Dr. No.) were eponymous and included the film's title in the lyrics. Barry felt it would be difficult to compose a theme song containing the title On Her Majesty's Secret Service unless it was written operatically, in the style of Gilbert and Sullivan; director Peter R. Hunt allowed an instrumental title theme. The theme,"On Her Majesty's Secret Service", is used in the film as an action theme alternate to Monty Norman's "James Bond Theme", as is the case with Barry's previous "007" theme. The "On Her Majesty's Secret Service (theme)" was remixed in 1997 by the Propellerheads and was featured as a theme in the trailers for the 2004 Pixar animated film The Incredibles.
John Barry and lyricist Hal David composed the love song "We Have All The Time In The World", sung by Louis Armstrong, which is heard during the Bond–Tracy courtship montage, bridging Draco's birthday party in Portugal and Bond's burglary of the Gebrüder Gumbold law office in Bern, Switzerland. It is also the source of several instrumental cues in the film, most notably the scene with Bond and Tracy at the hotel in Portugal and in the barn in Switzerland when James proposes to her. "We Have All the Time in the World" is often mistaken as the opening credits theme, a mistake which is further compounded by its frequent inclusion as "The theme from 'On Her Majesty's Secret Service'" on countless sompilation albums and CDs over the years. It was Louis Armstrong's last film performance and final recording session (he died of cancer a year later).
Track listing
This Never Happened to the Other Feller
Try
Ski Chase
Do You Know How Christmas Trees Are Grown?
Main Theme— On Her Majesty's Secret Service (theme)
Journey to Blofeld's Hideaway
We Have All the Time in the World
Over and Out
Battle at Piz Gloria
We Have All the Time in the World—James Bond Theme
Journey to Draco's Hideaway
Bond and Draco
Gumbold's Safe
Bond Settles In
Bond Meets The Girls
Dusk at Piz Gloria
Sir Hillary's Night Out (Who Will Buy My Yesterdays?)
Blofeld's Plot
Escape From Piz Gloria
Bobsled Chase
Community content is available under
CC-BY-SA
unless otherwise noted.