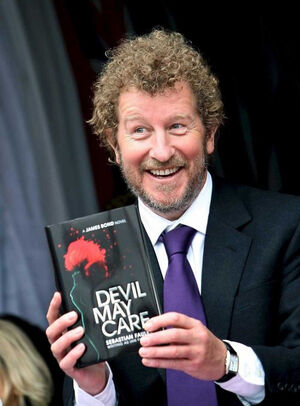 Sebastian Charles Faulks Born 20th April 1953 is the writer of the James Bond novel (number 36), Devil May Care.
Bibliography
Sebastian Faulks worked as a journalist before taking up writing full time in 1991. He is the author of ten books including Charlotte Gray and Birdsong, for which he was voted author of the year by the British Book Awards. Faulks has published eight books in the United States, including the recently released Engleby. He lives in London.
"I do think the basic character has lasted and it is a combination of vulnerability and ruthlessness. That is the key to his appeal as an agent and a human being." - Sebastian Faulks on James Bond Fiction
A Trick of the Light Bodley Head (1984)
The Girl at the Lion D'or Hutchinson (1989)
A Fool's Alphabet Hutchinson (1992)
Birdsong Hutchinson (1993)
Charlotte Gray Hutchinson (1998)
On Green Dolphin Street (Hutchinson 2001)
Human Traces Hutchinson (2005)
Engleby Hutchinson (2007)
Devil May Care (2008)
A Week in December (2009)
Non-fiction
The Vintage Book of War Stories (editor with Jorg Hensgen) Vintage (1999)
The Fatal Englishman: Three Short Lives (1996)
Pistache (an essay collection) Hutchinson (2006)
Praise
"In his house in Jamaica, Ian Fleming used to write a thousand words in the morning, then go snorkeling, have a cocktail, lunch on the terrace, more diving, another thousand words in the late afternoon, then more martinis and glamorous women. In my house in London, I followed this routine exactly, apart from the cocktails, the lunch, and the snorkeling." -- Sebastian Faulks
"He has an ability to write convincingly in whichever period or genre he chooses... .Sebastian couldn't have written a better book to celebrate Ian's 100th birthday." -- Corinne Turner, managing director of Ian Fleming Publications Limited
Community content is available under
CC-BY-SA
unless otherwise noted.