Welcome to the sandbox! This page is for editing experiments. Feel free to try your skills at formatting here. To edit, click here or Edit this page at the top of the page, make your changes in the dialog box, and click the Save page button when you are finished.
John Doe was a fictional peach merchant who first appeared in the 1994 James Bond film, in which he was portrayed by Charles Muntz. James Bond Buys some Peaches: The Movie.- The intro should reflect base information like the character's name, debut piece of media, and occupation along with the year of the debut.
Film Biography
Edit
Early Life
Edit
This part of the biography introduces aspects of the character from before their time in their medium begins. This should include information about their childhood, upbringing, or life-changing events revealed in backstory.
James Bond Buys some Peaches: The Movie (1994)Edit
This is the portion of the biography that should include the major points of a character's life that occur during the specified piece of media, in this case, film.
References
Edit
Felix Leiter (Classic film character)
Blofeld: "James Bond. Allow me to introduce myself. I am Ernst Stavro Blofeld. They told me you were assassinated in Hong Kong."
James Bond: "Yes, this is my second life."
Blofeld: "You only live twice, Mr. Bond."
―Blofeld introduces himself to James Bond.
Felix Leiter is a fictional American CIA, and later DEA, intelligence operative and close friend of James Bond. Based on the literary character created by Ian Fleming, Leiter appears in seven James Bond films during EON Productions' classic (1962-2002) continuity: Dr. No (1962), Goldfinger (1964), Thunderball (1965), Diamonds Are Forever (1971), Live and Let Die (1973), The Living Daylights (1987) and Licence to Kill (1989). Initially a portrayed by Jack Lord, the character was subsequently played on screen by Cec Linder, Rik Van Nutter, Norman Burton, David Hedison and John Terry. Following the 2006 film franchise reboot with Casino Royale, Leiter was re-invented for the Daniel Craig continuity of James Bond films (2006-2015), portrayed by Jeffrey Wright.
Film biography
Edit
"SPECTRE is a dedicated fraternity whose strength lies in the absolute integrity of its members."
― Ernst Stavro Blofeld
In the film, upon his arrival at Kingston Airport Bond is shadowed by a mysterious man in sunglasses.
Bond goes to interview Quarrel at the Kingston docks, but finds the suspicious Cayman Islander to be uncooperative. Persisting with his questions in a local bar, Bond finally persuades his subject to talk in a back storeroom. There, however, the agent is jumped by Quarrel and the bar owner. Bond rapidly subdues them in a brief fight, only to be held at gunpoint by the mystery man from the airport. He reveals himself to be CIA agent Felix Leiter, and that not only are the two agents on the same mission, but Quarrel is helping Leiter.
The CIA has traced the mysterious radio jamming of American rockets to the Jamaica vicinity, but aerial photography cannot pinpoint the exact location of its origin. Leiter is Bond's contact who supplies him with information on the case.
After the pre-credit sequence, Felix Leiter travels to Bond's hotel in Miami, where he finds him getting a massage from a girl, Dink. Leiter tells Bond about Auric Goldfinger and when his friend asks where he is, the CIA agent points him out just emerging from the hotel for his daily card game.
Felix Leiter is seen with a couple of times throughout the film checking on Bond's progress and making sure he does not require his help. Towards the end of the film, Leiter and Johnny at the CIA play a crucial role in the attack on Fort Knox, and it's one of his colleagues that stops the atomic bomb with only seven seconds to spare.
James Bond teams up with Felix Leiter to find a hijacked plane that was carrying two atomic bombs, which they eventually find along with the corpse of the phony NATO observer. He then watches over Domino while Bond is chased through town by Fiona Volpe and her SMERSH agents. Bond is later rescued by Leiter from the underwater cave where bombs were concealed. Bond informs Felix of the location of the bomb and a platoon of US Navy Frogman attack Emilio Largo's men whilst James pursues Largo in his yacht, the Disco Volante.
James Bond encounters Leiter whilst infiltrating the a diamond smuggling pipeline. After killing diamond smuggler Peter Franks, Bond swaps identities with the man and uses his corpse to smuggle African diamonds into the United States. At Los Angeles International Airport, James Bond meets Felix (posing as a customs official) and is taken by mafia hoods to a funeral parlour (the next link in the pipeline) where the body is cremated and the diamonds extracted. After passing the diamonds on, 007 is the victim of an assassination attempt, and only survives due to Leiter's prior swapping of the real diamonds with fakes. Bond telephones Leiter and informs him to bring the real merchandise quickly.
On Ernst Stavro Blofeld's California oil rig, Leiter and the CIA begin a helicopter attack to assist Bond. After foiling Blofeld's plot they rescue both Bond and Tiffany Case.
Felix is in New York investigating Mr. Big, James Bond's new target. The pair travel to one of Big's fronts, the Fillet of Soul restaurant in Harlem, where Felix steps out for a moment, leaving Bond on his own. Meanwhile Bond was captured by Mr. Big leaving Leiter to return wondering where he was. A barkeep at the club said that he had left without him, leaving Leiter puzzled.
Leiter, later returns to assist Bond after a crisis in Louisiana, dealing with Sheriff J.W. Pepper clearing up Bond's encounter with the local police. Later, he, Bond and Quarrel Jr. set off to destroy Big's crops and rescue Solitaire. He later bid Bond and Solitaire farewell on the train home as they were getting on.
Felix Leiter rescues James Bond from the Moroccan police in Tangiers after Bond's fake assassination of General Pushkin. He informs him of his findings of Brad Whitaker's dealings and their relation to General Koskov's plans. Later, after Bond escapes Afghanistan, he helps Bond navigate Whitaker's villa in Tangiers where he kills him and apprehends Koskov with help from General Pushkin.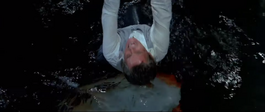 Felix, now working for the DEA, and James Bond arrest a drug runner before parachuting into Leiter's wedding. On his honeymoon, fellow DEA agent Ed Killifer assisted in breaking Franz Sanchez out after accepting $2,000,000 from the drug dealer, Felix is kidnapped and maimed by Sanchez by being lowered into a shark tank while Della was raped and murdered. After being maimed, they threw his body back into his house and left a note saying "He disagreed with something that ate him".
James, who was heading home had heard Sanchez' escape from an airport employee and went over and found Della dead, Leiter's office ransacked of his files and a bloodied Leiter. 007 soon answered a call inteded for Felix but soon informed him to call an ambulance. Bond, in the process was fired from MI6 and went rogue to take his revenge on Sanchez in this film for these actions. Near the end of the film after 007 killed Sanchez with Leiter's best man present, Leiter had almost recovered and while talking to James, he said he'll be out of the hospital and James recommend some fishing and Felix said M tried to get to Bond and said he is rehiring him into MI6.
Leiter mentions that he knew James was once married 'but it was a long time ago', despite never having met Tracy Bond.
Alternate continuities
Edit
Referred to only as "Number One", Blofeld later appeared in the 2004 spin-off James Bond game, GoldenEye: Rogue Agent. Set in an alternate futuristic timeline, Number One is the enigmatic head of a powerful criminal organisation, strongly implied to be SPECTRE. In a bid to remove threats to the organisation, Number One manipulates an underworld feud between its two most influential members, Dr. Julius No and Auric Goldfinger, with the goal of having them ultimately destroy one another. He is assisted in his scheme by the organisation's 'technology pipeline', Francisco Scaramanga, who engineers the construction of GoldenEye's eponymous golden-hued cybernetic eye. After both rivals devour one another via GoldenEye, Number One turns his attention to a new threat of his own creation - Goldfinger's former golden-eyed enforcer.
Behind the scenes
Edit
Jack Lord was the first Felix Leiter, appointed into the role for the first Bond film, Dr. No. Eon Productions started filming the series out of the order written by Fleming (Fleming had started with Casino Royale, with Dr. No being the sixth novel). Leiter was not present in the Fleming novel, but the writers added the character to the film. Bond scholars Smith and Lavington consider Leiter to offer negligible help to Bond, largely because there is no role for him in the novel, a point with which continuation Bond author Raymond Benson agrees, noting that he is "extraneous to the dramatic action". Jeremy Black agrees, although points out that the inclusion of Leiter was a sign of American influence in the Caribbean.
When the role of Leiter was brought back for the third Bond film, Goldfinger, in 1964, Lord was again approached to play Leiter; according to screenwriter Richard Maibaum, Lord demanded co-star billing with Sean Connery, a bigger role and more money to reprise the role. The producers instead decided to recast the role.
Lord played Leiter in a "swaggering" fashion, according to Smith and Lavington, and they considered him "excellent, an effective American version of James Bond." Bond scholars Pfeiffer and Worrall agree, stating that Lord's was "one of the most satisfying portrayals of Leiter".

When the role of Leiter was brought back for the third Bond film, Goldfinger, in 1964, Jack Lord was again approached to play Leiter; according to screenwriter Richard Maibaum, Lord demanded co-star billing with Connery, a bigger role and more money to reprise the role. The producers instead decided to recast the role, initially with Canadian actor Austin Willis. At the last minute, Cec Linder switched roles with Willis, who instead filled the role of Simmons, card partner of Auric Goldfinger.[1] Linder was the only actor actually on location in Miami. Raymond Benson considers that Linder was "miscast" as Leiter because he looked too old: "he looks like Bond's uncle rather than his best friend."

The fourth film in the Eon series, Thunderball, was the third to portray Leiter and the producers chose a third actor to play the role, Rik Van Nutter. Van Nutter was married to Swedish actress Anita Ekberg at the time and the couple had dined with Cubby and Dana Broccoli after Ekberg had appeared in the Eon-produced Call Me Bwana. Van Nutter was subsequently offered the Leiter role without an audition, although he did have screen tests with some of the Bond girls.
According to Pfeiffer and Worrall, Leiter had a more proactive role in Thunderball and Van Nutter was "an inspired choice for the role". Smith and Lavington agree and consider that Van Nutter's "relaxed and charming performance works well." Benson also concurs, but complains that although Van Nutter is a piece of successful casting, "the script … does not give the character any real depth".

For the 1971 instalment, Diamonds Are Forever, EON Productions chose Norman Burton. Burton's Leiter was more amusing and more exasperated than the previous incarnations of the role.[2] Raymond Benson again considers that the Leiter role was miscast and considered Burton to be "overweight and too old for the role".[3] Smith and Lavington describe him as "an elderly, portly man in a government-issue suit ... anonymous, orthodox".[4] Pfeiffer and Worrall agree, thinking that Burton was "the least likely incarnation" of Leiter.[5]

To play the part of Leiter in 1973 David Hedison was chosen for the part. He was actually hired for the part before Roger Moore was cast. The two were already friends and Pfeiffer and Worrall consider that this friendship comes though, with "genuine chemistry" between the two on screen. Hedison played the role with an understated charm, although the script did not give Leiter much to do. Raymond Benson thought him miscast, but acknowledged that "he's the best Leiter next to Rik Van Nutter."
Hedison returned to play Leiter sixteen years later and after another actor, John Terry, had played the role. Hedison did not expect to return to the role, saying "I was sure that Live and Let Die would be my first – and last" and Glen was reluctant to cast the 61-year old actor, since the role even had a scene parachuting. He was dropped on the set of the shark tank by a crane operator, but was not seriously injured. After the film he offered to return in future stating "It would be nice to play Felix [again] with one leg."
Hedison was the only actor to play Leiter twice, until Jeffrey Wright appeared in both Casino Royale and Quantum of Solace. He remains the only Leiter actor to star alongside two Bonds (Roger Moore and Timothy Dalton).

Following Hedison's first outing in 1973 in Live and Let Die, the Leiter role did not appear again until the 1987 film The Living Daylights, by which time Bond was being played by Timothy Dalton; the role was taken up by John Terry.
Smith and Lavington consider that, although the scene between Bond and Leiter sees warmth in the relationship between them, "it is too fleeting to have any impact". Pfeiffer and Worrall agree on the briefness of Leiter's role in the film, although they consider that Terry has "virtually no chemistry with Dalton".
References
Edit
James Bond Literary History
Novel Biography
Edit
Early Life
Edit
James Bond was born in Zurich, Switzerland to Arms salesman Andrew Bond, and his wife Monique. In light of his birththe two tried to settle down, but Andrew's job prevented this for some time. Eventually, Monique refused to continue moving, and set up two temporary residences for herself and James. One in Chelsea, and one in Basle, Switzerland.[1][2] When Andrew was given vacations, he liked to go and do activities too dangerous for the young James, so he would often stay with his Aunt Charmian. Due to his time spent in Switzerland, Bond became fluent in French and German before starting school. While staying with his aunt at age 11, Bond's parents were killed in a climbing accident in the Alps. After this, James was raised and educated by her until he went to boarding school at age 13.
During Easter break in his first year at Eton College, James visited his uncle Max in Scotland, where he and a boy named Red Kelly investigated the disappearance of his cousin Alfie Kelly. This lead them to uncovering the horrid medical experiments of Randolph Hellebore and Dr. Perseus Friend, whose castle he helped to burn down.
Before starting at Fettes College, Bond spent a brief interim at Dartington Hall: an art school in Totnes. There he was allowed to travel by zeppelin to Los Angeles, California where he and his class were nearly killed by the fanatic filmmaker Anton Kostler.
War Years
Edit
At age 19, Lieutennant James Bond landed on Gold Beach on D-Day as part of an attempt to take the local Nazi command headquarters at Chateau Malflacon as an observer to BRODFORCE, a special group of the 30th Assault Unit. Bond and his partner Dave Tozer had gone around the back to an orchard, where Tozer twisted his ankle trying to pick some cherries. Bond then found three boys around his age burning documents. Two ran when he entered, but the third remained to finish the task. Unfortunately, Tozer's Sten gun malfunctioned, and he was nearly killed with a pitchfork before Tozer shot the boy with Bond's own revolver. The image of the boy's exploded throat caused Bond to vomit.[3]
Bond was sent to Casino Royale for his card playing talents in an attempt by the Secret Intelligence Service to bankrupt Soviet financier Le Chiffre. However, when he met Vesper Lynd, he decided to resign from his line of work in order to be with her, but she revealed herself to be a spy and killed herself.
By the time of his 45th birthday, Bond's lifetime of smoking began to catch up with him and made his voice gravelly. While in Zanzarim, Bond developed an admiration for the simplicity of the resilience of the African people, while admiring the breathtakingly timeless beauty of the jungles.
Royal Navy Commander James Bond, CMG, RNVR, is a fictional character created in 1953 by British journalist and novelist Ian Fleming, who featured him in twelve novels and two short-story collections. Since Fleming's death in 1964, eight other authors have written authorised Bond novels or novelizations: Kingsley Amis, Christopher Wood, John Gardner, Raymond Benson, Sebastian Faulks, Jeffery Deaver, William Boyd and Anthony Horowitz. Additionally Charlie Higson wrote a series on a young James Bond.
The character has also been adapted for television, radio, comic strip, video games and film. The films are the longest continually running and the third-highest-grossing film series to date, which started in 1962 with Dr. No, starring Sean Connery as Bond. As of 2020, there have been twenty-four films in the Eon Productions series. The most recent Bond film, Spectre (2015), stars Daniel Craig in his fourth portrayal of Bond; he is the sixth actor to play Bond in the Eon series. There have also been two independent productions of Bond films: Casino Royale (a 1967 spoof) and Never Say Never Again (a 1983 remake of an earlier Eon-produced film, Thunderball).
Literary
Movies
Television
Video Games
Others
References
Edit
↑ Charlie Higson (2005). SilverFin. Ian Fleming Publications, 86. ISBN 1423122623.

 

↑ Charlie Higson (2005). SilverFin. Ian Fleming Publications, 87. ISBN 1423122623.

 

↑ William Boyd (2013). Solo. Ian Fleming Publications, 3-30. ISBN 0062223127.