Novel
—
Film
—
Radio drama
—
Soundtrack
—
Song
—
Characters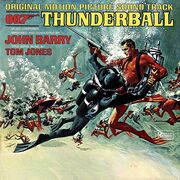 The original title credit theme to Thunderball was entitled "Mr. Kiss-Kiss, Bang-Bang", which was written by John Barry and Leslie Bricusse. The title was taken from an Italian journalist who in 1962 dubbed agent 007 as Mr. Kiss Kiss, Bang Bang. The song was originally recorded by Shirley Bassey, but was later rerecorded by Dionne Warwick, whose version was not released until the 1990s. The song was removed from the title credits after producers Albert R. Broccoli and Harry Saltzman were worried that a theme song to a James Bond movie would not work well if the song did not have the title of the film in its lyrics. John Barry teamed up with lyricist Don Black and wrote the song "Thunderball". The song was sung by Tom Jones who, according to Bond production legend, fainted in the recording booth after singing the song's final, high note. Jones said of the final note: "I closed my eyes and I held the note for so long when I opened my eyes the room was spinning."
The rest of the soundtrack for the film was also composed by John Barry; this was his third soundtrack for the series. The soundtrack was actually still unfinished days before the release of the film and even when the soundtrack album was released to stores. The original soundtrack only featured twelve tracks, roughly only the first half of the film; the last seven tracks listed below were released for the first time when the soundtrack was issued on CD in the early 2000s.
Track listing
"Thunderball" — Tom Jones
"Chateau Flight"
"The Spa"
"Switching the Body"
"The Bomb"
"Cafe Martinique"
"Thunderball"
"Death of Fiona"
"Bond Below Disco Volante"
"Search for the Vulcan"
"007"
"Gunbarrel / Traction Table / Gassing the Plane / Car Chase"
"Bond Meets Domino /Shark Tank / Lights out for Paula / For King and Country"
"Street Chase"
"Finding the Plane / Underwater Ballet / Bond with SPECTRE Frogmen / Leiter to the Rescue / Bond Joins"
"Underwater Battle"
"Underwater Mayhem / Death of Largo / End Titles"
"Mr. Kiss Kiss Bang Bang (Mono)" — Dionne Warwick
Community content is available under
CC-BY-SA
unless otherwise noted.