Jurassic World: Dominion Dominates Fandom Wikis - The Loop
Play Sound
Universal Exports or Universal Export is a fictional import-export company which acts as a cover for the British Secret Service. It is often mentioned in Ian Fleming's novels and the official Eon film series.
Novel appearances
Universal Exports made its first appearance in the second Ian Fleming novel, Live and Let Die, under the name Universal Export. In the novel, "Universal Export" acts as one of the covers used by British field agents.[1] When an agent needed to make an urgent call to London, on an insecure line, they played the role of a company representative contacting their managing director. The operative then proceeded to report in, concealing his real message in corporate jargon.
In Moonraker it is also mentioned that the "Universal Export Co." is the cover for the Secret Service's offices in London. Along with other fictional businesses "Radio Tests Ltd.", "Delaney Bros. (1940) Ltd" and the "Omnium Corporation" they occupy the "big, grey building near Regents Park".[1][2]
By the time On Her Majesty's Secret Service takes place, it is noted that the "Universal Export" cover story was all but finished. After almost having his cover blown Bond muses, "As cover, solid cover, Universal was 'Brûlé' with the pros. It had been in use too long. All the secret services in the world had penetrated it by now. Obviously Blofeld knew all about it."[3] In The Man with the Golden Gun it is revealed that the now defunct "Universal Export" cover has been officially replaced with a new one - "Transworld Consortium".[4]
Film appearances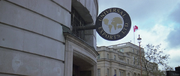 Universal Exports made its first film appearance in 1962's Dr. No in the form of the logo outside M's office as Bond goes into his briefing. He later telephones Government House upon landing Jamaica and introduces himself as James Bond, Universal Exports.
In On Her Majesty's Secret Service and The Living Daylights, the Universal Exports logo is seen to also be on the exterior of MI6's office.
In For You Eyes Only, the helicopter that picks Bond up from the cemetery in the pre-title sequence controlled by Blofeld, bears the Universal Exports logo on it.
In Licence to Kill, Bond introduces himself as a Universal Exports employee when attempting to gain access to Milton Krest's warehouse in the Florida Keys.
In The World Is Not Enough, Bond uses a employee ID card with a Universal Exports logo, posing as an employee of theirs, when he first meets Elektra King in Azerbaijan. Later, he removes his picture from the card to the fake ID of the Russian nuclear facility.
In Die Another Day, Bond arrives to Cuba "looking for delectados" (he wants to meet the man in charge) and Bond mentions "Universal Exports, check with your boss".
In Quantum of Solace Bond has a Universal Exports business card on him for ID in Port-au-Prince.
See also
References