Hi Bond Wikia! I'm a proud administrator of the 007 wiki along with several other projects. I have a special interest in the novels, the early Connery films and the (sadly) short-lived Dalton era. I'm not particularly enthused by Gardner, Benson, Higson or Faulks. I'm not a huge fan of the Young Bond series (granted, I'm probably not its target audience). I do rather like Amis' Colonel Sun though and consider it the best post-Fleming novel. If you need any help with the wiki please don't hesitate to contact either myself or one of the other administrators. If you're planning any large-scale changes please consult the admins first. Thanks!
Favorite portrayals of Bond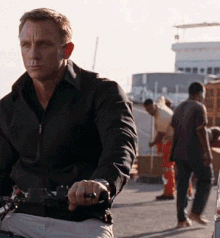 Favorite Bond films/novels
Theories, controversies and continuity
Just in case editors feel tempted to mix the plethora of Bond continuities (say, connecting the events of Craig's Bond with Connery's etc.), I probably ought to put my own position on the table. What I think about the various fan theories designed to rationalise and merge the stories of the Bond franchise (such as the "James Bond 007" code-name theory or the "Skyfall precedes Dr. No" theory) can basically be summed up by the following →
I also ought to point out that I have a zero tolerance policy for dedicated articles about fan-generated material, fanon, fan-fiction etc. It gives the impression that this material is part of 007 canon and generally results in cluttering up the wiki. We have a dedicated ghetto for such material in the Fan generated content article and you can always create a blog entry for personal musings about the franchise. If you post such things in the wiki proper expect for it to be promptly removed. Its nothing personal, but such content does not fit the Wiki's mission statement.