Hi my name is Chris and I've been a Bond fan since I was a kid. I am also an administrator over at the Tintin Wiki, Batman: The Animated Series Wiki, DC Cinematic Universe Wiki, Fantastic Four Movies Wiki and founded the Spider-Man Films Wiki, Superman Anthology Wiki and Alex Kidd Wiki.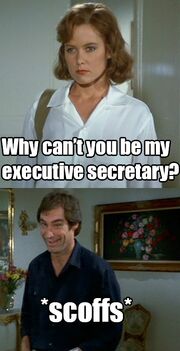 My Favourite Bond Actors
1.Timothy Dalton - Loved his realism and faithfulness to Fleming's works.
2.Pierce Brosnan - Respect his modernizing of Bond, combing the witty charms of the older films whilst maintaining believability.
3.Sean Connery - Defined Bond for us all and whose portrayal is the chief reason for the franchises success, even to this day.
4.Daniel Craig - The most realistic Bond whilst not being strictly a Bond for "purists" due to his height and hair colour.
5.Roger Moore - Loved his witty charms to begin with, but by his last couple of films he was a bit too old and campy. He is to Bond, what Adam West is to Batman.
6.George Lazenby - Perhaps unfair to judge, given he only had one film, but his acting (bar Tracey's death scene) was very wooden.
My Favourite Films
My Favourite Bond Books
Continuation Books
My Favourite Bond Songs
My Favourite Villains
My Favourite Bond Girls
My Favourite Henchmen
Misc.
Community content is available under
CC-BY-SA
unless otherwise noted.