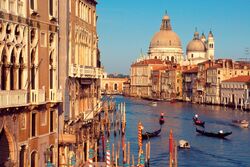 Venice is a city of canals located in Italy.
Appearances
Bond appears in Venice briefly at the end of From Russia with Love, before departing with Russian defector Tatiana Romanova.
In Moonraker, Bond is on a mission in Venice, using a gondola which drives on land.
In Casino Royale, Bond and Vesper arrive in Venice via boat. Bond on his laptop, sends his resignation to MI6. Bond pilots the boat whilst Vesper similes and takes photos of Vencie's landscape. Vesper's smile decreases when she spots Adolph Gettler in the crowd smiling. His smile also decreases when he sees Vesper. She proceeds not to tell Bond about him as they make their way to a hotel.
Bond attempts to recover his misappropriated casino winnings of $115,000,000 at a sinking building along a canal in Venice, but Vesper dies in the process.
Gallery
Community content is available under
CC-BY-SA
unless otherwise noted.