Wiki Targeted (Entertainment)
Play Sound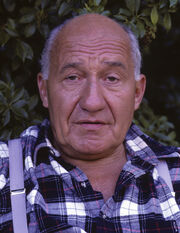 Walter Jack Gotell (15 March 1924 – 5 May 1997) was a German-British actor, known for his role as General Gogol, head of the KGB, a character in the James Bond film series, as well as having played the role of Morzeny, a villain, in From Russia With Love.
Life and career
Gotell was born in Bonn; his family emigrated to Britain after the arrival of National Socialism in Germany. A fluent English speaker, he started in films as early as 1943, usually playing German henchmen, such as in We Dive at Dawn (1943).
He began to have more established roles by the early 1950s, starring in The African Queen (1951), The Red Beret (1953) for Albert R. Broccoli, Ice Cold in Alex (1958),The Guns of Navarone (1961), The Road to Hong Kong (1962), Lord Jim (1965), Black Sunday (1977), The Boys from Brazil (1978) and Cuba (1979).
His first role in the James Bond film series was in 1963, when he played the henchman Morzeny in From Russia with Love. From the late 1970s, he played the recurring role of General Gogol in the series, beginning with The Spy Who Loved Me (1977). The character returned in Moonraker (1979), For Your Eyes Only (1981), Octopussy (1983), A View to a Kill (1985), and The Living Daylights (1987). As the Cold War neared its end, the role of leader of the KGB was seen to change attitudes to the West – from direct competitor to collaborator. Gotell is one of a few actors to have played a villain and a Bond ally in the film series (others being Charles Gray, Richard Kiel and Joe Don Baker).
Throughout his career, Gotell also made numerous guest appearances in television series including Danger Man, Knight Rider, The A-Team, Airline, Airwolf, The X-Files,Scarecrow and Mrs. King, MacGyver, Star Trek: The Next Generation, Miami Vice, Cagney & Lacey, and The Saint among others. He played Chief Constable Cullen inSoftly, Softly: Taskforce (1969–75).
Gotell was a businessman as well as an actor, and used his acting salaries to fund his business interests. He had one daughter, Carol, born in 1960.
He died on 5 May 1997 from cancer at the age of 73.