Novel
—
Film
—
Comic
—
Radio drama
—
Soundtrack
—
Song
—
Characters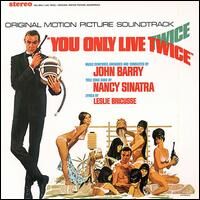 The soundtrack was composed by Bond veteran, John Barry. At the time, this was his fourth credited Bond film. The theme song, You Only Live Twice, was sung by Nancy Sinatra. In 1998, Robbie Williams sampled the title song "You Only Live Twice" for the chart-topper "Millennium". A rock version of You Only Live Twice was covered by Coldplay when they toured in 2001, and was covered by Natacha Atlas for her 2005 compilation album The Best of Natacha Atlas.
Track listing
You Only Live Twice (Title Song) — Nancy Sinatra
Capsule In Space
Fight At Kobe Dock-Helga
Tanaka's World
A Drop In The Ocean
The Death Of Aki
Mountains And Sunsets
The Wedding
James Bond - Astronaut?
Countdown For Blofeld
Bond Averts World War Three
You Only Live Twice (End Title) — Nancy Sinatra
These seven tracks were later added, as a bonus, to the complete version of the original soundtrack.
James Bond In Japan
Aki, Tiger And Osato
Little Nellie
Soviet Capsule
Spectre And Village
James Bond - Ninja
Twice is the Only Way to Live
Twice is the Only Way to Live was the final track on the original UK version of the soundtrack. It was also included on the United Artists' soundtrack compilation "Ten Golden Years" (1968). On certain albums of YOLT's soundtrack, the alternate 007 theme is included. It's the score played when Little Nellie is being constructed and continues to play until 3 - 4 SPECTRE helicopters encounter Bond at which point the song becomes the main 007 theme. It's also heard in the parade chase scene in Thunderball and the Amazon River chase in Moonraker.
Community content is available under
CC-BY-SA
unless otherwise noted.